Call / Text Us: local_phone
Email Us: email
Beaconsfield Member Pamela Clayton In Beaconsfield
KICK-START TODAY send
Open now
Today: 06:00 AM - 09:00 PM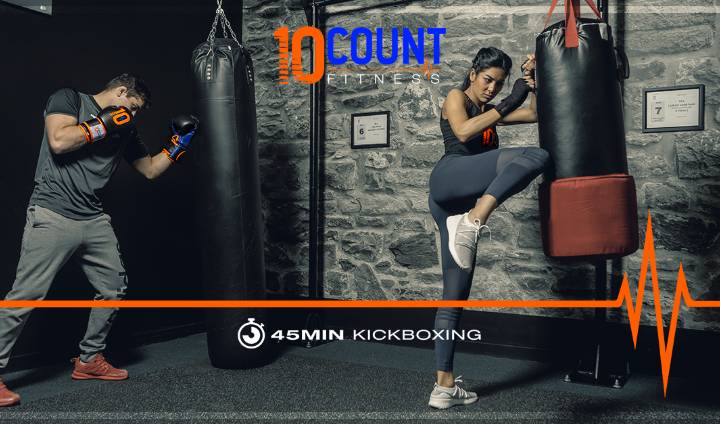 10Count Fitness is a 45 minute effective and fun full-body kickboxing and functional movement workout with no class times, using the latest technology in exercise science while the watchful eye of a trainer guiding you at all times. Most importantly the brand new workouts every day are designed to never plateau your results. It is an exhilarating and challenging circuit workout through 10 stations.
If you are looking for a unique kickboxing experience that you will remember for a long time, then look no further than 10Count Fitness Beaconsfield West Island Montreal!
OPEN 7 DAYS A WEEK!
NEW WORKOUTS EVERYDAY!​
10 Count Fitness Features
Heart Rate Monitoring

Heart rate monitors and wearable technology help each participant train at the right intensity based on their body metrics to maintain a personalized target heart rate zone. Resulting in increasing blood circulation, speed up the caloric burn and will stimulate more energy. The real-time results are displayed during your kickboxing experience to keep your intensity level at its desired and proper peek level.

Coach Included

As our members learn kicking, punching and other challenging moves or even how to do a series of push-ups you'll smile and feel incredibly happy about the person you're becoming. Therefore our coaches love to teach and seeing these traits develops in their clients.

No Class Times

That's right, NO class times! Show up on your schedule anytime to workout. Kickboxing will train and work the total body, focused on improving cardiovascular, buns, legs, and core likewise never before. Each punch and kick you throw along with the moves will be sculpting and toning every muscle of your body while enjoy doing it and having fun. Every day will be a NEW routine with a new adventure.

45 min Kickboxing Workouts

The kickboxing will train and work the total body, focused on improving cardio vascular, buns, legs, and core like never before. Every punch and kick you throw along with the moves will be sculpting and toning every muscle of your body for 45 minutes while enjoy doing it and having fun.

New Workouts Everyday

Every day will be a NEW routine with a new adventure. However, our trainers do all the hard work of meticulously designing fun and challenging total body workouts through 10 stations. Never get bored repeating the same thing. Each day is a brand NEW workout to challenge your body in all planes of motion.

Burn 500+ Calories*

At 10Count Fitness we don't knock out people, we knock out workouts! There is no person-to-person contact and we do not punch people. You will be under the guidance of a trainer every step of the way. Above all, to clarify, if you are beginner, advanced athletes, and everything in between are all welcomed. *Results may vary from person to person
Testimonials from 10 Count Fitness Beaconsfield Members: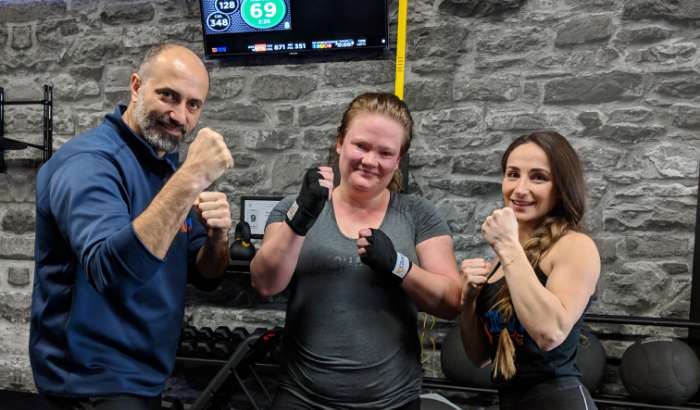 Beaconsfield member: Kimberly Lowry
Great workout, challenging and fun. Trainers' are very helpful and encouraging. They are even patient and supportive to newcomers!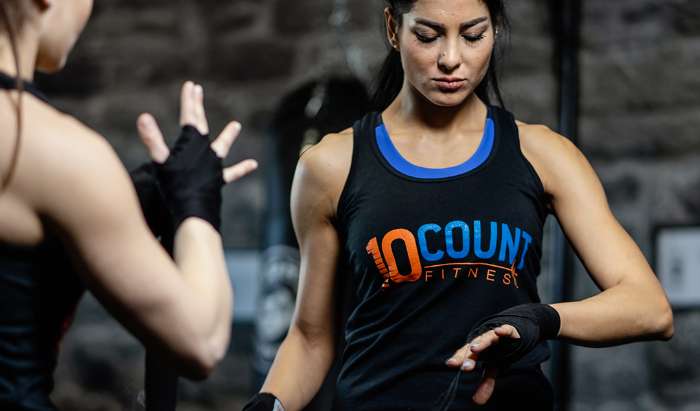 Beaconsfield member: Pamela Clayton
I definitely give 10 Count Fitness a thumbs up.👍 Kick boxing has given me workouts with a definite challenge along with the best physical training I've ever achieved. An exercise routine takes a lot of discipline to continue to be motivated without losing interest. Kick boxing is not only fun but drives me to push to the limit.

I am enthusiastic about this sport to the point where I want to be as proficient as the trainers. Not only is this workout amazing but you have the driving force of a personal trainer. How incredible is that? and it is all covered under your membership plan at no extra charge.

10 Count Fitness is for all fitness levels as well as age. Get pushed, try it today. Just do it!!!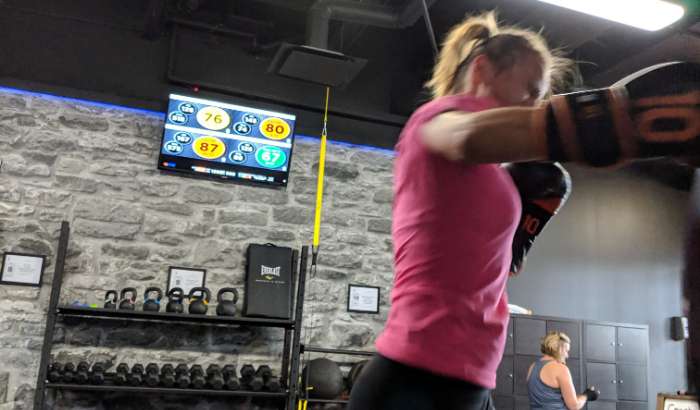 Beaconsfield member: July Sanchez
Really great workout.. After years of useless gym memberships I finally found MY kind of workout.. Its intense and has a superb environment with trainers that keep an eye on you the whole.time to push you..I get in and I get out without even knowing it.. Its that focused.. I love it!!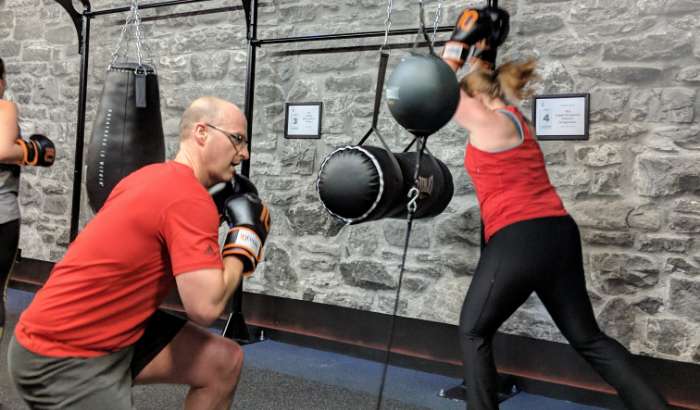 Beaconsfield member: Pat Stratton
Great workout! Trainers are the best . They really push and motivate you !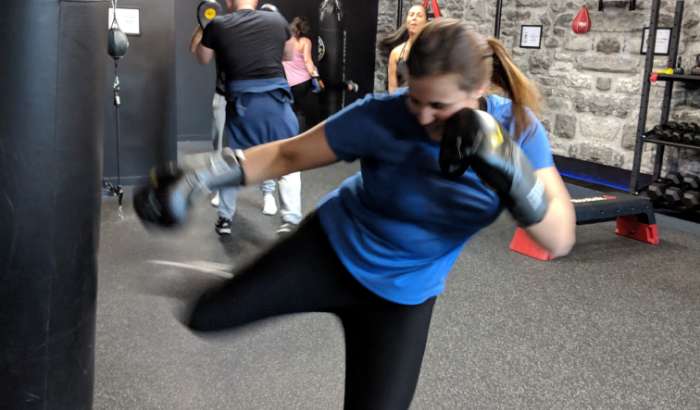 Beaconsfield member: Mailly Monaco
Working out was usually a drag but knowing this is going to be my workout excites me!! You get so much out of your 45 minutes its crazy. I've been doing this for 2 weeks and I already see a physical difference but also a mental difference. I have so much more energy. Everyone here is so nice and helpful and so encouraging.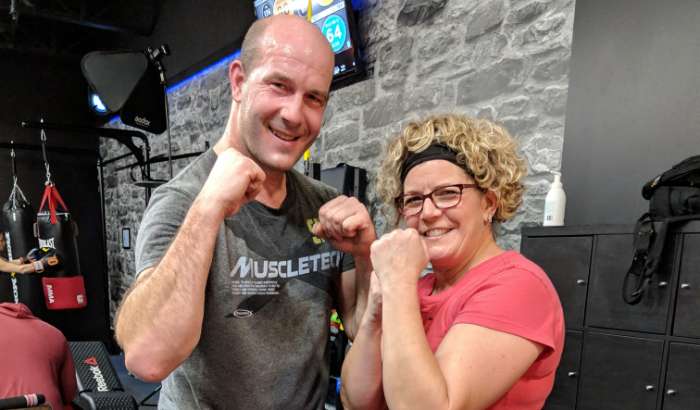 Beaconsfield member: Marie Garcia
Amazing atmosphere to hit the bag with welcoming and dedicated staff! Always ready to answer your questions about workouts and membership. Workouts are always changing daily so you will never get bored of doing the same thing!
Subscribe to receive more offers and news
Join thousands of awesome people, there is only one thing to do.
Location
50 Blvd. St-Charles Unit 4A
Beaconsfield, QC, H9W2X3