Call / Text Us: local_phone
Email Us: email
We have these special offers ready for you
EXCLUSIVE: A private dance lesson for only $45!

Expires in 9 days

Available: 14

ONLY $75 for 2 personalized private dance lessons (Private or In-Studio) with a professional Arthur Murray instructor

Expires in 15 days

Available: 10

If you are interested in learning ballroom, salsa, swing or tango; we've got an amazing offer for you.
Argentine Tango

Officially the "dancer's dance," the Tango came to prominence in the early 20th century thanks to Italian-American actor Rudolph Valentino. The Tango features precise, staccato movements with a flair for the dramatic, demanding the partners have an intimate closeness and feel for the music. If you're full of passion, living for the raw tension and romantic connection between you and your partner, then your dance is indeed the tango.

Bachata

Bachata is a type of music and dance originally created in the rural countrysides of the Dominican Republic. While Bachata music tends to be slower, the dancing is relatively up-tempo, consisting of basic back and forth steps and sensual hip and body movements. Since dance partners move very closely to each other, the bachata is a spicy dance that's perfect for couples that want to express their sexy side.

Bolero

Bolero was originally a Spanish dance in ¾ time that changed to 2/4 time in Cuba, morphing again into a slow, Rumba-like dance in 4/4 time. This dance is all about smooth, wave-like movements in which you and your partner move in unison. If you're a fan of slow, expressive dances with rises and falls in action backed by sentimental music, then glide your way into learning the Bolero.

Cha Cha

The Cha Cha, considered the all-time favorite Latin dance, is an easily recognizable, foundational style to learn. Evolving out of a slowed down Mambo, the Cha Cha burst on the scene in 1954 with its three distinct steps. If you're a sassy person full of playfulness that loves upbeat music, then the Cha Cha is for you.

Country Western Two Step

An offshoot of the minuet in a quick-quick-slow-slow pattner, the Country Western Two Step is an American classic. The Country Western two step has unique positioning and footwork, characterized by a lot of spins, strides, slides, and shuffles. If you love your country music and your cowboy boots, then get those feet a movin' with this dance.

Country Western Waltz

The Country Western Waltz is an adaptation of the classic Waltz ballroom step, but at a faster tempo. The one-two-three rhythm and rise and fall of the traditional Waltz carries over, but with the addition of cowboy boots, the steps and glides are a bit different. If you love the sense of grace in the Waltz, but want to add some down south flavor to your dancing, then look no further than the Country Western Waltz.

Disco

With strong stylistic roots in Swing, Samba, Cha-Cha, Mambo and many more dances, Disco is more of a type of dancing than a specific dance itself. The Hustle, made popular by Saturday Night Fever, is a group line dance that's a hit at big parties. If you get down to old school Bee Gees and a chunky bassline, then disco dancing is your groove!

Foxtrot

The Foxtrot, created in 1912 by Harry Fox, is the original dance in which partners held each other closer than arm's length. Today, the foxtrot still remains popular for its bare simplicity, better known as the "slow dance." Excellent for developing the fluidity of movement and smoothness, the Foxtrot is a stone-cold classic if you are the type of person taken by the romantic elegance in ballroom dancing.

Mambo

Combine swing and Rumba and you get the Mambo! Made popular by Cuban pianist Anselmo Sacasas in 1944, the Mambo is an upbeat dance that remains popular today for its style, rhythm, and pizazz. If you're a lively individual inspired by the union of American and Cuban jazz, the Mambo is the perfect rhythmic dance for you to feel the music.

Merengue

A risqué dance introduced to the US in 1941, merengue is a Latin style claimed by both the Dominican Republic and Haiti that relies heavily on rhythmic drums and scorching brass lines. Xavier Cugat, a Spanish bandleader living in Havana, revitalized the style in 1957 with broad strokes of excitement and cadence. With a lot of hip movement and sex appeal, the merengue is your dance if you need to fire up some vitality in your life.

Rumba

The Rumba is a famous style characterized by subtle lateral hip motion made for slower tempo tracks. Dating back over 400 years, the Rumba is one of the most recognizable Latin dances due to unique hip movement and slow-quick-quick rhythm. The Rumba is a slow, steamy type of dance in which solid eye contact between partners is key – so if you're looking for a dance to create some sensual sparks between you and your significant other, then look no further.

Salsa

A blend of many Latin dances, the Salsa is all about energy, movement, and flirtiness jammed into confined spaces. Salsa music tends to be rather fast and uptempo, featuring an 8-beat routine that is tricky to follow without proper tutelage. If you're a type-A, fiery individual that loves their dances with a little attitude, then give the salsa a shot.

Samba

Originally a colorful street dance from Brazilian Carnival, the samba is an bright dance style dripping with energy, movement, and pace. Structured around rolling drum rhythms and twisting, staccato steps, the Samba is a vibrant, showy dance that gets the adrenaline flowing. The samba is for you If you are the life of the party that gets out on the dance floor to shake it.

Swing

Swing, also known as the "Lindy" (after Charles Lindbergh's famous flight across the Atlantic), burst on the scene in the late 1920's. A union of multiple styles including the Black Bottom, the Charleston, and the Jitterbug, Swing solidified its place and popularity as America braced itself for WWII, and continues to be a lively form of dance to this day. While swing depends on a lot of confidence, it's the perfect dance for those individuals looking for a discipline in which they can inject some improvisation and personal style.

Viennese Waltz

Compared to the traditional "Slow Waltz," The Viennese Waltz is a similar graceful dance style, but set to a faster tempo. This style requires impeccable timing, stamina, and accuracy on behalf of the dancer due to its dizzying speed and lack of pauses. If you love the grace and elegance in the Slow Waltz, but want to add some life to both the dance and the corresponding music, then give the Viennese Waltz a try at Arthur Murray.

Waltz

Considered the first mother of all dances, the Waltz is an old international standard. The Waltz is a delicate dance, characterized by the man holding the woman in his arms, demonstrating poise and grace while navigating a complex set of turns, dips and foot changes in a ¾ tempo. If you idolize the elegance and precision found in ballroom dance scenes in movies, then you need to learn proper Waltz technique to show off your inner sophistication on out the dance floor.

West Coast Swing

West Coast Swing is a constantly evolving social dance that focuses on musicality and a connection between the partners. As a "slotted dance," this style makes use of an imaginary area on the floor in which the leader moves a specific distance laterally, while the follower brushes past them moving along the length of the slot. West Coast Swing is an incredibly flexible style that works at a range of different tempos, so it is perfect for you to let your adventurous side stand out.
Why our customers say we are the best
Customer Reviews
5
star
star
star
star
star
based on 1 reviews
Our experience at Arthur Murray in Thousand Oaks has been absolutely fantastic. The professionalism and knowledge of the instructors is top notch. We feel so fortunate to have found this gem in the Conejo. Plan to continue to hone our new skills in the studio so that we can tango around the world together.
Subscribe to receive more offers and news
Join thousands of awesome people, there is only one thing to do.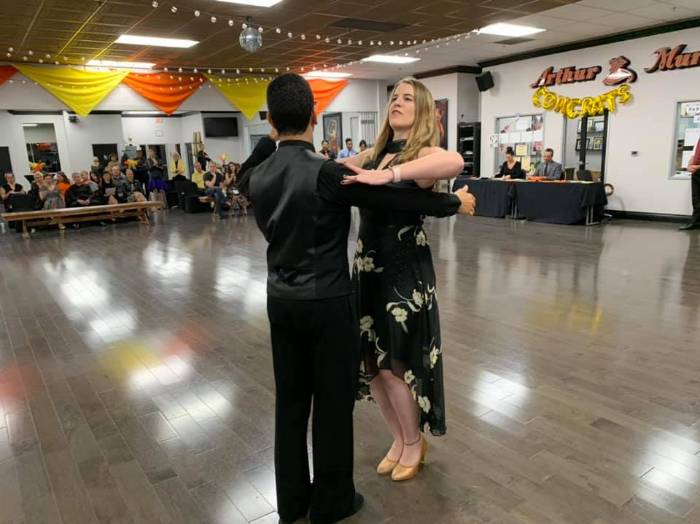 The Arthur Murray Thousand Oaks Dance School is a well known dance school in the Conejo Valley teaching ballroom dance. We have been in this industry for well over 100 years, you can count on us when you want to dance in LA and Ventura
Location
3065 Thousand Oaks Blvd #4
Thousand Oaks, CA, 91362