Call / Text Us: local_phone
Email Us: email
100 OFF For Truck Repairs At Bel Air Express INC
Contact Us send
Open now
Today: 08:00 AM - 05:00 PM
We have a special offer ready for you
$100 OFF for Truck Repairs at Bel Air Express INC

Expires in 2 months

Available: 13

We are truck and trailer repair shop. Whether electrical or mechanical our specialists are here to assist you, from the bumper to the ACC bar.
DOT Inspection

The Department of Transportation (DOT) requires that all commercial motor vehicles (CMV) with a gross vehicle weight rating of more than 10,001 pounds undergo an inspection every year.

A DOT inspection is conducted in order to make sure that all parts and accessories of the CMV are in good working order

PM Service

Preventative maintenance is defined as regularly scheduled inspections, tests, servicing, replacements, repairs and other tasks intended to help reduce the impact and frequency of equipment failures.
Why our customers say we are the best
Customer Reviews
5
star
star
star
star
star
based on 9 reviews
Great customer service. Quality work

Great place... Professional service and reasonable price 👍

Very nice service, nice people's. They can solve probably any king of issue you have with your truck. Soo far they keep all of my three trucks in perfect condition! 5 star for sure!
Good people, good mechanic and fast service.
Subscribe to receive more offers and news
Join thousands of awesome people, there is only one thing to do.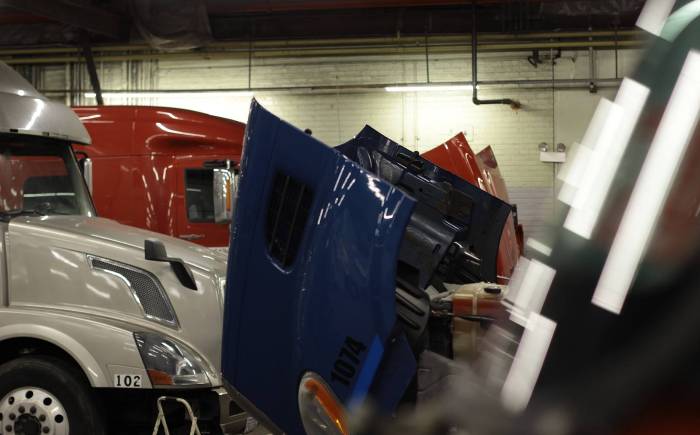 When we first started our business was in Florida. We had one mechanic and one place to repair. We only performed easier repairs like PM SERVICES, DOT INSPECTIONS, BRAKE ADJUSTMENTS, TRUCK DETAILING, etc. It was hard but we didn't give up.
At one point our bills were piling up and we weren't getting much work so we decided to close the shop and move the business to Illinois. We were very lucky that we quickly found a great mechanic, and then another one...
...and before we knew it we had a new shop with 4 bays for truck repairs.
We knew that if we were honest and worked hard we could grow our business. We started working on TRANSMISSIONS, DRIVESHAFTS, POWER PLANTS, AIR and HYDRAULIC COMPONENTS, BRAKES, ELECTRICAL COMPONENTS, DIAGNOSTICS, DIFFERENTIALS and TRAILER REPAIRS... and now, 3 years later, we are SPECIALISTS!
Now we are located on the corner of Ogden Ave and South Central Ave in Cicero, behind the Truck Pro company.
Our new TRUCK AND TRAILER REPAIR SHOP has 10 working drive-thru bays for easy access and 23000 ft2 of parking spaces available for rent and overnight parking.
Location
5551 W Ogden Ave
Cicero, IL, 60804