Call / Text Us: local_phone
Email Us: email
We have these special offers ready for you
$100 Credit towards WBC CryoTherapy Monthly Membership

Expires in 5 months

Available: 5

Whole Body CryoTherapy (WBC) uses extreme cold to trigger health benefits. Many people from ages 11-85 are already using daily cryotherapy for pain managament, recovery and rejuvenation. Come and feel the chill!
Whole Body Cryotherapy

Whole Body Cryotherapy is the process of exposing the body to hyper cooled air as low as -240 degrees F for two to three minutes. During treatment the body is tricked into thinking that it is going into hypothermia causing natural physiological responses. This stimulates the blood vessels at the skin surface and muscle tissue to constrict, forcing blood away from peripheral tissues. During this process blood accumulates in the body's core to warm and protect your vital organs. While doing so the body is naturally filtering and removing toxins and inflammatory properties from the body. The core body temperature remains unchanged during the treatment, however, it may drop slightly afterwards.

Immediately upon exiting the chamber, filtered blood flows back to the peripheral tisses, and the temperature of the skin surface begins to rise. This provides skin and muscle tissue with oxygen, nutrient, and enzyme enriched blood cells. Range of motion is increased as the muscle tissue warms back up. The benefits of whole body cryotherapy continue after the treatment is complete. The body's energy levels are increased and muscle recovery times are shortened.

Cryofacial™

The Cryofacial™ can help reverse the signs of aging and bring back that healthy, youthful glow without the need for cosmetic surgery. The cryotherapy facial may also provide relief from skin disorders such as psoriasis, dermatitis, eczema, and acne.*

CryoX Spot Treatment

Spot treatments provide localized cryotherapy to a specific area of the body for 5-10 minutes. These treatments aim to reduce pain, inflammation, and swelling in a targeted area. Local cryotherapy is comparable to "icing", although safer and much more efficient in our experiences. The equipment has a built in laser sensor to ensure client safety and therapeutic temperature levels during the treatment. Clients frequently combine this treatment with Whole Body Cryotherapy to achieve external and systemic benefits and relief.
Why our customers say we are the best
Customer Reviews
4.98
star
star
star
star
star_half
based on 65 reviews
Nice clean place! Workers are so nice! Unbelievable after the whole body cryo!

First timer and it wont be last. Feeling loose and refreshed and ready for my workout

It helps a lot with inflammation and it doesn't hurt but it supposed to burn off calories do

Super relaxed!! Very nice people that really care about you.
Amazing ! So glad I tried the facial. My next 2 appmts are already booked and I can't wait to see the results. are

Friendly and professional staff. Will be back!

Love this place & OMG the facial was amazing! The staff is very friendly. It is a peaceful & calm atmosphere & very clean. I can't wait to go back!!

First time so am anxious to make my second visit

Super clean facility and friendly staff!

The facial was so relaxing, I'll definitely be coming back. The full body treatment was quite an experience!
The staff is awesome and treatment are do in a timely manner.

Really felt good while in therapy - I have bad back pain and it was gone while in unit - it came back right away but feels different - now more like actual bone pain - so I think it took care of the inflammation atm..... I will try it again as I did feel good while in the unit. Robes were small for bigger people like me 😔

Love it more energy and body pains not as bad as before

First time trying!! Love it. Friendly, very knowledgeable staff! The owner gave me some personal history of her own experience and why she started. She answered my questions thoroughly I will definitely be going back!

Had a great first experience!! Will be back!

Love the staff! The facials are amazing.

This place is amazing!!!! Brooke is so great! Definitely coming back again! Thank you!
I loved it. The whole body "freeze me" was awesome, I will be going back!!.

Loved my first facial. Going back again soon.

The treatments and professionals here have made an extraordinary difference in my arthritis pain management. Worth every penny. And fun as well!

Amazing service. Great robes

Went for my first WBC. Good experience.
I loved the chamber after I was done it helped my pain that I had before going in!

This place is catching on!

This place is catching on!

Loved the cryo facial ! Stress relief!

Has helped me majorly with my hips and back pain - staff is very friendly - byielding is very clean!

Love this place. It is very clean, people are nice, and the treatment gives me tons of energy!

Very pleased. Awesome service

Nice Friendly People first visit
Had my first CryoFacial today. Loved it can't wait for my next one. The staff is awesome.

Excellent service from a wonderful staff! I had multiple questions and not every single one was answered so I thoroughly understood what was happening. I will definitely be back!

"Cool" experience! Brooke was great!

Get place and awesome customer service!

This has really worked for my pain.

Love this place for healing my sore muscles after a hard workout. And the facial has my skin looking younger after just one session! I'm hooked.

Sidnee so helpful in explaining what I would fee
Excellent experience! Injured ankle less swollen after 1 visit
Subscribe to receive more offers and news
Join thousands of awesome people, there is only one thing to do.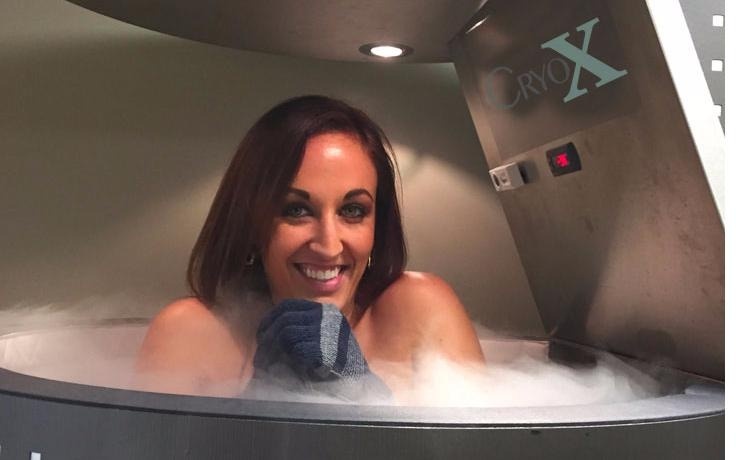 WBC originated in Japan in the early 1970's as treatment for arthritis induced inflammation and pain. It has since become very popular in Europe and in recent years introduced into the United States primarily as treatment for pain from inflammation and recovery from injury. There are a multitude of other benefits that are outlined below and in our services tab.
Our Juka Cryosauna's are the leading brand globally and are the same systems you will see being utilized by the majority of professional athletes and celebrities alike in the video links attached to this site. They were made specifically for us in Poland and shipped directly for install in our Topeka location.
In addition to providing the unique WBC treatment to the area we will also be utilizing newly patented cold air technology to offer Cryo Spot Treatment of injuries. This modality utilizes super cooled air that when applied locally speeds recovery from injury and chronic pain in isolated areas like a swollen ankle. This is done with our "elephant" portable treatment system.
This same machine also provides us the ability to offer Cryofacials™ for men and women who want to smooth out those wrinkles and beat back father time. These only take 10 minutes and don't require the removal of any makeup to obtain benefits of cold technology in helping you keep that glowing look.
We also offer state of the art compression therapy with the patented Normatec® dynamic pulse compression devices designed for recovery and rehab. These systems are an integral part of every elite athlete's training regimen and provides relief and relaxation for the non athlete. Enjoy this modality in our fully reclining chairs while you watch your favorite TV program on our big screen.
Location
6831 Sw 29th st suite #400
Topeka, KS, 66614