Call / Text Us: local_phone
Email Us: email
Best Workout Fitness In Newton
Contact Us send
Open now
Today: 09:00 AM - 08:00 PM
2 FREE Martial Arts Classes

Expires in 8 days

Available: 9

At Diaz Isshinryu Karate & Kobudo, we endeavor to not only impart the techniques of Karate but also its philosophy. True strength is not the ability to cause harm, but the ability to remain calm and resolute in the face of adversity.
Kids Classes

Martial arts classes for kids in Lawrence

Children need lots of activity to use all the energy they have and grow up healthy and strong. But learning a martial art is much more than that. It also starts a child on a lifelong path of enjoying physical activity in a positive atmosphere.

A lack of physical activity is a problem that adults and children face not only in Andover but throughout the country, and it is one of the main causes of obesity and deteriorating health in our society. To counteract the issue of poor health, we need to get people motivated and enjoying being active. This is one of the primary focuses Diaz Isshinryu Karate & Kobudo LLC has when engaging with our students, especially the younger ones. We make every effort to ensure our classes as engaging as possible for the young people of Andover, so that they will pick up the skills and attitude that will make their lives easier and more rewarding.

Diaz Isshinryu Karate & Kobudo LLC organizes its martial arts classes for children around the idea that different children learn in different ways. We use a variety of different teaching techniques to help our students remember what we teach them, because the faster they learn the faster they can move forward. If you are interested in enrolling your child in one of our classes then please contact us at (978) 688-5470.

Martial arts teaches children many fundamental qualities, including:

Self-esteem
Focus
Strong Work Ethic
Manners
Self-discipline
Respect
Patience
Leadership
Goal Setting

Karate Classes

Karate Instruction Lawrence

Arguably the most well-known martial art in the world, Karate is a striking based fighting style that does not include grappling in its training. Relying on keen focus and a firm center of gravity, Karate teaches you how to strike correctly but more importantly that you must understand the reason behind your strike.

The Philosophy behind the practice

Karate is far more than just a style of fighting. It is a way to understand oneself and the world. The word Karate can be understood in English as "empty hand." Empty hand has two meanings within the discipline. 1) Referring to a practitioner's ability to fight empty handed or without weapons. 2) Empty hand is interpreted as containing Japanese Zen principles. In this regard, the empty hand refers to a person holding onto nothing except the perfection of one's self and art of the style. By being like a quiet valley where every sound can be heard a person can remove the selfishness and wickedness within themselves and become an exemplary and spiritually fulfilled individual.

In this sense karate is not a martial arts so much as it is a training path to spiritual knowledge. In fact, a founder of one of the first schools of karate, Gichin Funakoshi, thought that practitioners would have to use their training at most once in their lives. Except for an instance where you must defend yourself to avoid personal harm, all other situations should be resolved nonviolently.

Why study Karate?

At Diaz Isshinryu Karate & Kobudo LLC, we endeavor to not only impart the techniques of Karate but also its philosophy. True strength is not the ability to cause harm, but the ability to remain calm and resolute in the face of adversity.

When the people of Methuen decide to learn karate with Diaz Isshinryu Karate & Kobudo LLC they will learn:

Self-control
Balance
Respect
Discipline
Concentration


If you live in the greater Methuen area and are interested in taking a class with us then please feel free to contact us through phone or email. We look forward to training with you.

Self-defense

Self-defense courses in Lawrence

We don't like to admit it but there are some streets in Lowell that we would rather not walk down alone at night. Usually, the thing to do is just avoid these places, but sometimes trouble comes to you. When it does, it is best to be prepared. Diaz Isshinryu Karate & Kobudo LLC is here to give the people of Lowell the tools they need to protect themselves when they need to.

Protect yourself

When the adrenaline is pumping it can be very hard to think clearly. This is the primary focus we have when teaching. We are going to teach you something that you hopefully will never have to use, but if you do, then we want you be able to pull out this new skill set with ease. That is why we created a course specifically to prepare you in case of an assault.

Diaz Isshinryu Karate & Kobudo LLC has designed its self-defense course by boiling down different martial arts techniques into their key components. These components are then connected with specific situations so that you gain the necessary knowledge to handle almost any circumstance. Our goal is that when situation X arises, you will counter with Y.

Meet new people

Self-defense is a serious subject but this is not the army, it is a classroom and we try to have fun while learning. Even the strongest building can't stand on a weak foundation. That is why we support each other in class; to create a solid foundation for our students to stand upon. Come and meet like minded individuals, engage with other members of your community, and have some fun. If you have any questions about the self-defense classes we provided the people of Lawrence then please feel free to contact us.

Health And Fitness

Lawrence Nutritionist

You have a fitness goal in mind and you have come to Diaz Isshinryu Karate & Kobudo LLC to achieve it. You are prepared to work out regularly and focus on improving your overall health and wellbeing, but there is more to being healthy than exercising. You also need to look at your life outside the gym to see what can help you obtain the results you want.

That is why Diaz Isshinryu Karate & Kobudo LLC offers consultations with trained and experienced nutritionists. Everyone is different when it comes to what their body needs for optimal health. Many individuals have underlying food sensitivities, which make certain foods harder to digest properly; leading to internal stress and a lack of essential nutrition. People can live their whole lives without realizing that their body is not attuned to a food and just think that feeling bloated, fatigued or having poor digestion is the way it has to be.

Sensitivities are only one possibility when it comes to your personal nutritional requirements. Your personal fitness goals will greatly improve by talking to a nutritional expert who understands your body and why it does what it does.

Fitness and nutritional assessment

To find the best course of action for our Methuen clients we perform an assessment to make sure they can get off to a good start. We determine the percentage of body fat, basal metabolism and other measurements to understand where you currently are in your health goals. Combined with a detailed nutritional assessment, our nutritionist will help you see how your life outside the gym is affecting your ability to get in shape.

Motivation is Key

The primary reason we suggest our Lawrence clients see our nutritionist is to gain motivation to reach their fitness goal. By keeping track of your physical fitness and nutrition, you will gain results faster and see improvement every step of the way, giving you the motivation to continue and see even more impressive results!

If you live in Lawrence and are looking to get serious about yourself, then call Diaz Isshinryu Karate & Kobudo LLC today.
Customer Reviews
5
star
star
star
star
star
based on 1 reviews
Love working with Dave! Incredible energy!
Earn "FREE One Month Membership" with our Loyalty program
Earn points when you complete activites
Every time you Check-In

1 point

Share on Social Media

4 points

Post a review

5 points


Redeem Points for rewards
FREE Diaz Isshinryu Key Chain

10 points

FREE Diaz Isshinryu Beanie

25 points

FREE Diaz Isshinryu Shin Guard

50 points

15% OFF Rash Guards

100 points

FREE One Month Membership

250 points
Enter your Name and Mobile number to join the program or check your rewards.
By registering for this program, you agree to receive automated text messages from "Diaz Isshinryu Karate & Kobudo LLC".
Opt-in not required for purchase. Standard data rates apply.
Subscribe to receive more offers and news
Join thousands of awesome people, there is only one thing to do.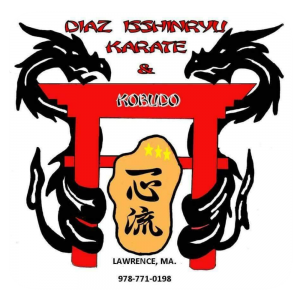 Diaz Isshinryu Karate & Kobudo LLC: your path to a better life

Dear Families,
At Diaz Isshinryu Karate & Kobudo LLC we are experts in Traditional Martial Arts Education for children's, adults, teens and families! We teach a Character development program that focuses on Confidence, Respect, Focus, Balance, Self-control and Self Discipline.
Our Family orientated school encourages parents will find themselves easily encouraged to take an active role in the school (Dojo) though the classes that we offer and family events.
Karate and Cardio classes are fun yet challenging to both the body and mind while learning self-defense skills that will enable you to defend yourself in any situation as well as strengthening your body and increasing flexibility. Whatever your current level of fitness is we help you set goal to help you achieve great health or your black belt.
Whether it is learning Karate, self-defense or getting in shape, building self-confidence or discipline our school delivers on what we say we do.
Students stay at our school because our core value programs improve our student's lives.
When the people of Lawrence come to Diaz Isshinryu Karate & Kobudo LLC to learn martial arts, they don't just receive training, but a staff that is dedicated to helping them improve themselves.
Dedicated to enhancing our students
Learning a martial art can be the memorizing of moves, but at Diaz Isshinryu Karate & Kobudo LLC we focus on teaching our students much more. Martial arts is, in some respects, a way of life. We do not mean that certain individuals earn a living from being in matches or teaching. Martial arts is a way of life because it practices mindfulness. When you practice a strike, a throw, or an exercise, the goal is to understand your body and be one with the movement. Eventually the goal is to, in time, be completely present in the moment and learn how to bring out that amount of centeredness when you need it. All the stresses in your life become much more manageable when you know how to find your center and understand that you have the mental tools you need to overcome the problem.
Location
2 Puzzle Lane #1
Newton, NH, 03858