Call / Text Us: local_phone
Email Us: email
INNOVATION. MOTIVATION. RESULTS.
Contact Us send
CLOSED
Today: 06:00 AM - 08:30 PM
We have a special offer ready for you
We provide personal training level results for a fraction of the cost through fun, motivating, 45-minute group HIIT and strength training workouts.
F45 Hamilton Downtown Team and Community
Customer Reviews
5
star
star
star
star
star
based on 28 reviews
Best trainers, bets vibes, best workouts and best results!!!

The atmosphere, the coaches, the workouts - you won't EVER go back to another gym!

Amazing workout and the best coaches and owners. Such a supporting environment, focused on accountability.

Excellent environment, incredible workouts

Amazing gym, amazing workouts, amazing staff. It's truly the best gym there is. It combines both hiit cardio workouts along with strength and mobility training as well. You get to put on lean muscle while losing fat AND while having fun. The trainers are all incredible and do whatever they can to ensure you are having the best workout. They care about you and your goals, modify workouts for your individual needs (and injuries ) and push you to your limit. Definitely recommend this gym to everyone. Beginners, moderate fitness level to advanced - you will be challenged appropriately according to your abilities and goals. So basically to sum it up I LOVE F45 and highly recommend everyone at least trying one class (and promise once you come once you'll be addicted) :) !

Very friendly staff! Intense and rewarding environment.

Unreal, kicked my ass in the best way possible. I am absolutely so excited to keep going, the motivation is real. Umi, you are so kind and so sweet to tailor the workout to my physical needs. I so appreciate you!!!!

This is by far the best gym that I've been to. It's the perfect mix of personal training and social classes that make the experience invigorating and forever challenging.
Love the energy, coaches and people at this gym!

Not just great F45 workouts but an amazing community and environment!

F45 Hamilton Downtown is not only the best gym by far THE BEST F45 gym I have ever been to! The coaches are so genuine, supportive and energetic that they make sure you get the best workout every single time you go! Amazing community, friendly environment and fantastic workouts!

I have never liked any gym facilities or any fitness programs until I joined f45... What a life changing experience! This gym will make you WANT to come everyday. I am not a morning person at all but somehow I get up at 6am everyday, not to miss a single class. The trainers at the Hamilton location are phenomenal. They will modify your form to make the excercises more challenging for you, more appropriate to your injuries, or just simply more fun! 45 minutes will fly by (even though you will burn tonnes of calories). The owners of the studio are a young couple who strive to make this place better, cleaner, more fun and feel like home. They are very approachable and will make it feel like home. My friends are tired of hearing me talk about f45 but I just want to share with them! I would recommend f45 to everyone and anyone!

The staff here are so welcoming! I referred my friend and she said she's never felt so comfortable going to a gym. She was nervous to go but after her first class, she felt so welcomed that she was excited to go on her own.

The most motivational, inclusive, friendly gym I've been to!

Great workouts with wonderful trainers who really care. If you're looking for a fantastic workout with an incredible community, this is the place!

F45 Hamilton Downtown is my second home I love it so much. The facility, trainers, equipment and technology is top notch. The workouts are always challenging no matter what your fitness level is. Most importantly the owners Justin and Andy truly care about every single member's fitness goals and happiness at the gym.
F45 is amazing! The trainers are great and the workouts are incredible

Always motivating, amazing environment & never regret a workout! You will never go back to a regular gym after experiencing what F45 has to offer!

I cannot say enough about F45 Downtown Hamilton. The trainers, the community and the environment. Come join a class. I promise you won't regret it!

I've been working out for a long time and a member at many different types of facilities, but none of them have compared to F45 Hamilton Downtown. A great atmosphere with amazing coaches and supportive teammates. I'm more motivated than I have been in years! Love love love this place.

F45 Hamilton downtown has truly reignited my love for fitness! No class is the same which keeps each workout fresh and exciting! The coaches are high energy, kind and work with you to achieve your goals! The members are both motivating and inspiring, it's a great community to be a part of!

Amazing atmosphere, great coaches, and the best 45 minute workout one can ask for! It's a must try, you will fall in love

Been a member since they opened back in September and I can easily say it has been one of the best decisions I've ever made! It's more than just a "gym", the coaches are there to make you feel supported, motivated, positive, and educate you on so many aspects of health. Can't imagine going anywhere else!

F45 has been the best investment I have made in a long time. Amazing trainers, beautiful and clean environment with state of the art equipment! All I need to do is show up, and work hard for 45 mins. I've seen great changes, and have never felt stronger!
Great environment and knowledgeable support. A great place to get active!

I'm a big advocate for F45 and in particular, the downtown Hamilton location! I've never felt better! The atmosphere is energetic, the coaches are fantastic, and the workout is dynamic. Best of all is the community that Justin and Andy have formed. There are people of all shapes and sizes striving to meet their own personal goals. I currently work in Toronto and haven't even come across the thought of switching locations because of the above! Try a free week to see what it's all about!! http://rfrz.us/gclstbuw

F45 Hamilton Downtown is easily the best gym I have ever trained at. All of the trainers care about our success and our enjoyment of the classes, and make sure that we are doing the exercises correctly. 100% recommend training here.

best workout I've ever had. The coaches are so knowledgeable and motivating.
Earn points when you complete activites
Every time you Check-In

1 point

Share on Social Media

4 points

Post a review

5 points



Brixton

3 points
Redeem Points for rewards
F45 Trucker Cap

100 points

F45 Shaker Bottle

100 points

F45 Squeeze Bottle

150 points

F45 Tee

250 points

Body Scan

250 points

Canadian Protein Vegan Blend

250 points

Canadian Protein Concentrate

350 points

Canadian Protein Isolate

450 points

Lionheart HR Monitor

700 points
Enter your Name and Mobile number to join the program or check your rewards.
By registering for this program, you agree to receive automated text messages from "F45 Hamilton Downtown".
Opt-in not required for purchase. Standard data rates apply.
Subscribe to receive more offers and news
Join Hamilton's most fun and fastest growing fitness community!!!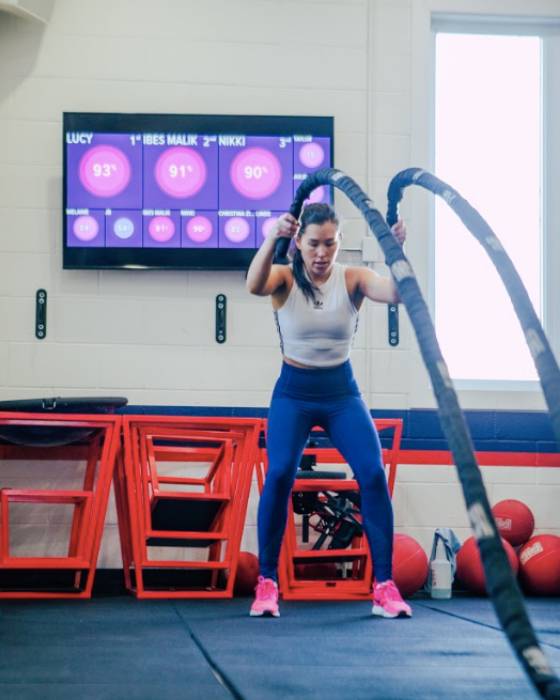 Functional 45 Training is the fastest growing fitness network in the world. We provide personal training level results for a fraction of the cost and do so in a fun, motivating, 45-minute group workout.

Community underpins everything that we do which is why our team of members looks forward to training together each day!
Our workouts combine high-intensity interval training (HIIT) with functional exercises to build a lean body and a healthy heart.

Every workout includes 2 personal trainers so it can be scaled for all levels.
At F45 you'll find kettlebells, ropes, sandbags, barbells and medicine balls vs. treadmills and stationary machines.
F45 is for anyone who is ready to take their health and performance to the next level!
Location
15 Wellington St N
Hamilton, ON, L8R1M7