Call / Text Us: local_phone
Email Us: email
F45 8 WEEK CHALLENGE Come And Check Us Out Before You Start The Next Challenge In Albion
Start your trial send
CLOSED
Today: 08:15 AM - 09:15 AM
F45 Albion Summer Kickstart Offer - 50% discount off first 3 Weeks

Expires in 14 days

Available: 15

Get started on your Summer body TODAY! We'll give you 50% off your first 3 Weeks of training so come in and we'll set you up on the right program for you. At the completion of your 3 weeks receive a Free Body Scan and Training Planning Consultation.
Customer Reviews
4.99
star
star
star
star
star_half
based on 71 reviews
Never felt more motivated since starting F45, the team and awesome and always step in to help you improve

Great place to workout! Love the team

Great facilities and team. Perfect way to kickstart each day

Awesome atmosphere and encouraging trainers!

5 Stars can't say enough about Albion F45 xxxxx Life Changing xxxxx AWESOME Trainers xxxxx

Returning to exercise after having a baby has been great at F45 Albion. The trainers have modified exercises for me and there is a crèche on site as well which has been fantastic
Fun studio with great trainers! Everybody is there to help you get a great workout!

Awesome atmosphere, and trainers

Colin and his team run a great club with an inclusive atmosphere

Great atmosphere, workouts and supportive trainers. Highly recommend to anyone looking for an easy, no fuss way to work out!

Love the Saturday Goolywood sessions with the DJ playing always gets me pumped up

I love F45 Albion! Such an amazing team, community and atmosphere. My day isn't complete without a visit to F45 Albion

Such s great place to train. The people and trainers are fantastic!
Great club with great trainers!

Great way to do daily exercise and meet new friends

Love the culture and energy at F45 Albion.

Amazing place and awesome people

Great Studio and Location with magnificent workouts and instructors!!

Doing the 8 week challenge at F45 has been awesome. The mixture of strength & cardio workouts, alongside the awesome challenge app & good programme has helped me so much.
Amazing club, it has been life changing. The team are great and it has a real community feel, so glad I started out here!

Fantastic place with a great crèche!

I have been training at F45 Albion for over a year. The club environment is fantastic. There is an amazing team here that keeps this place ticking and buzzing with energy every class. All of this has drawn in other members who help make the Albion club a great place to work out. Thank you to the great team that has patiently motivated and encouraged me along in my (slow but steady) fitness journey. Keep up the great work!

Such a convenient location between the north side & the CBD. The workouts are challenging, fun & effective. The team know has a lot of knowledge & care about the members. High recommend F45 Albion
Kg smashing fitness work love it

Fantastic studio and great workout guaranteed. Highly recommend

Such a fantastic studio. Great condition, new equipment and awesome trainers!

The team at F45 Albion are the BEST in the industry. They are passionate, dedicated and genuinely care about their clients. They make exercise super fun but still manage to ensure you are supported through each class. Thanks Team Albion - absolute dream team!

Such a fab team at F45 Albion, the trainers are awesome and really push you (whilst also being super encouraging)! Would recommend to

F45 Albion is sensational. The location is amazing and perfect for a commute into the city or to the Northside. The trainers are motivating, personable & nice people. This workout is amazing for all levels of fitness & there are always modifications/ progressions to get the most out of the class. It is convenient, quick & gets results. Love working out here :)

The boys and Izzy at F45 Albion are awesome! They make working out so much fun and have made my time in Brisbane that much better! I'll miss you all
Love F45 with the Albion trainers they always no how to keep you motivated 💪🏻

It is Day 9 for me today and I'm loving the variety F45 brings every single day. There is no opportunity to get bored and the awesome playlists make each work out that much more fun! The cardio classes (as much as I dislike cardio) also go quickly due to the various stations. The trainers are super supportive and encouraging. I'm loving the F45 family!

Excelente gym and staff very friendly

Awesome Studio with lots of space. Supportive trainers and a great vibe

Great bunch of trainers that make the effort to keep you motivated

I've been going to F45 Training Albion since August 2018 and love how energised and fit I have felt! It's always a pleasure seeing the Albion F45 team of a morning. The trainers make exercising fun and are always so encouraging!
Really good club with friendly and positive trainers.

Awesome club is our Albion F45 been here since opening and still here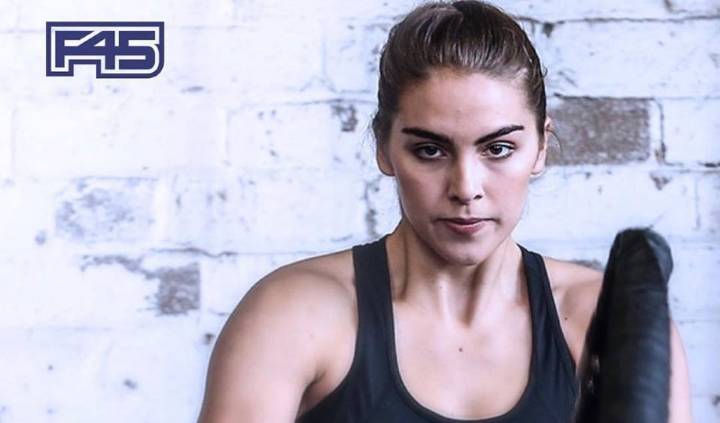 F45 ALBION
F45 Training is the new training technique leaving competition and clients gasping for air.
F45 is the most innovative, challenging and systemised team training workout in the world.
Come and train like the stars at F45 Training.
Location
327 Sandgate Rd
Albion, QLD, 4010