Call / Text Us: local_phone
Email Us: email
INNOVATIONMOTIVATIONRESULTS
Contact Us send
Open now
Today: 05:15 AM - 07:00 PM
We have a special offer ready for you
7 Day Free Trial

Expires in 30 days

Available: 6

The concept is simple: our studios all over the world offer a 45 minute High-Intensity, Circuit Training workout class for our studio members.
7 Days Free Trial

Our functional training classes continuously evolve so virtually no two workout are ever the same!

Get Your 1 Week Trial Pass (Locals Only) at F45 Training Clearwater
Customer Reviews
5
star
star
star
star
star
based on 11 reviews
How they create a family vibe in their studio and use corrective form to help members. Just an overall great studio with wonderful members.

I love this place! Getting great results. They know how to push you so you don't get stagnant with your routine.

I love F45! Great concept, amazing trainers and awesome programming. F45 always pushes me!! 💪🏼

Love this place! Awesome fun trainers, awesome workout.. serious calorie burn! I'm hooked

Awesome gym! Awesome people! Excellent workout

Thank you F45 Clearwater for welcoming me like family. I absolutely love everything about F45. The work outs are challenging & fun! The owners & trainers are amazing!! ❤️💙💪🏼💪🏼

I began attending F45 Clearwater classes two months ago, and I could not love it more! From the beginning, the staff and coaches made me feel welcomed and comfortable, even though I had no previous experience with this type of workout. I have already seen gains in strength, agility and endurance, and the best part is I genuinely look forward to going every single morning! A phenomenal workout and phenomenal community. I would give more stars if I could!!

Love my Fitfam! Wouldn't be where I am today without you.
Motivating and exhilarating place to workout (and fun!)

Fun, friendly, fitness family! If you're looking for a place to reach your fitness goals while loving every minute of it, this is it!
Earn "20% Lionheart" with our Loyalty program
Earn points when you complete activites
Every time you Check-In

1 point

Share on Social Media

2 points

Post a review

4 points


Redeem Points for rewards
Make a trainer do 10 pull ups.

20 points

Magnet

40 points

F45 key chain

60 points

F45 towel

75 points

F45 water bottle

100 points

50% any product

125 points

Bring a friend free on Friday

150 points

20% Lionheart

175 points
Enter your Name and Mobile number to join the program or check your rewards.
By registering for this program, you agree to receive automated text messages from "F45 Training Clearwater".
Opt-in not required for purchase. Standard data rates apply.
Subscribe to receive more offers and news
Join thousands of awesome people, there is only one thing to do.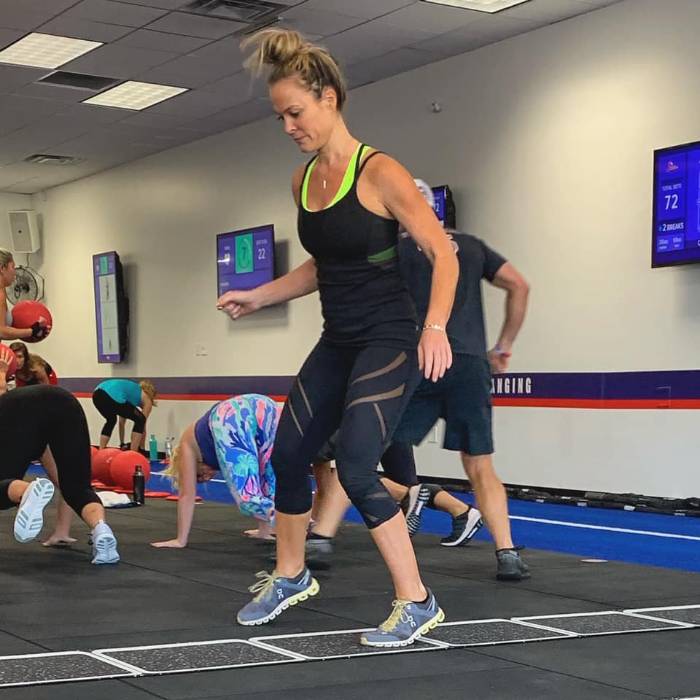 The concept is simple: our studios all over the world offer a 45 minute High-Intensity, Circuit Training workout class for our studio members. We have developed 32 named workouts. Functional heart pumping cardio and strength/resistance days. The workouts are created by the F45 Athletics and Peak Performance Department from a database of over 4,000 different exercises, so our members never get the same workout twice. The timing structure maximizes our members' growth and progress. Our daily workouts vary the amount of exercise stations, Work / Rest ratio and the number of repetitions through the "Exercise Circuit" of each day. This provides a challenging workout for our clientele that is always evolving and never the same. FREE 1week Trial
Location
2551 Drew St Suite 303
Clearwater, FL, 33765