Call / Text Us: local_phone
Email Us: email
'New to F45?

See why F45 has turned the fitness industry upside down! 1800 locations in 7 years! This global phenomenon is summed up in 3 words: Results. Results. Results.

Looking for more variety? More results? Check out F45's full body circuit training. Simple. Effective. Fun...and you'll never see the same workout twice!
F45 Training Cranford Gallery
Customer Reviews
4.94
star
star
star
star
star_half
based on 62 reviews
I have taken their classes about a year ago and am taking their virtual classes now... so addicting and definitely works! I look forward to their workouts ereryday!

Excellent gym. The owners really care and the trainers keep classes engaging and interesting.

Great interactive workout, challenging and motivating

Love the trainers, kerrie and rob! Even if it's not in the gym right now I still sweat like crazy! I'm enjoying the classes very much!

I decided to give F45 a try and I love it. I have been working out my whole life, was a boot camp and spin instructor. This workout is fun, fast and effective. Movements are challenging, but safe and there's always ways to modidfy. The work out is different everyday. The members are very friendly and the instructors are very helpful. I'm very happy that I decided to give it a try. I look forward to going.

Love my F45 family. They truly respect everyone's individual levels. The staff always welcomes you with a warm smile. It doesn't matter if you make it one day or five. No judgement!
Loved the class! Facility is clean and the equipment is in great shape. Also they have a killer sound system so the beats were coming in real nice.

Great experience! Looking for next challenge !

This is the best place ever!!

Saturday F45 Workouts are 60 minutes instead of the usual 45 and they have a LIVE DJ! DJ Renee always keeps us rocking with oldies, top hits and remixes to help you keep you entertained as you work out. Saturdays are my favorite days!

Great workout 🏋🏻‍♀️ I like that each pod focused on a certain body part.
Get your whole body workout in only 45 minutes.... start the New Years 2020 with a F45 tryout.

Another great workout with amazing coaches! Best way to start off the day!

Love the workouts & trainers

Loving F45 so far! People are nice and I look forward to my 5am classes every morning!!

Great place to go to, the staff is great they really care about you and your health and ask for any injuries or anything to prevent any problem and they show you ways to do the exercises in case you can't do the actual work out.

I really loved f45 for its different stations different exercises, none get dry out of there. It's a jump start energy for the day. I really liked it.

Love F45 & all the coaches!

Excellent workout in only 45 minutes
Great 45 minute full-body workout

Everyone is really friendly and pushes each other. I enjoyed the exercises and it is very challenging which is important in order to see results.

#F45Cranford is THE BEST! Your in & out in 45 mins! Music is pumping and the muscles are too!!!!Coaches are always there to give you modifications if necessary or to just motivate you and guide you through it!!!

Great atmosphere!!! Place is so clean with amazing equipment

Great class! Felt like a star athlete!

Tried my first class and I'm excited for my next !
First weekend class and it was awesome!!!

Great workout made better by the great trainers and vibe!

Fun class that is challenging

A great workout that changes every day! The trainers are knowledgeable and friendly! Always there to help out and push you to the next level! I love F45 Cranford

Love love f45 workouts. Love all my trainers, never a dull moment.

I used to belong to Crunch but for $10 a month I slept in. Now its 3-4 times a week, religiously. Our trainer Patty is a joy to see first thing in the morning. All energetic and bubbly. It's amazing that she can smile as she plots to cause you great physical pain!!!
Love F45! Love the variety and class size. Highly recommend trying it!

Awesome workout! Comfortable environment, great trainers, very motivational! Looking forward to see all the progress I get out of F45

Really like it. First time 😊😊😊

I've been going to F45 since it opened a year ago and have loved every minute! The workouts are challenging and never repeat so you don't get bored. The trainers are so friendly, helpful and push you to get stronger than you'd think you're capable of. I love the DJ on Saturday's - it makes a weekend workout totally worth it. I hope someday they add Sunday classes!

Best workout around HANDS DOWN! Give it a try...its tough but once you see the pounds and inches coming off and all the lean muscle you've developed you'll have no regrets! Been hooked since day #1...#F454life!!
Get your full workout in only 45 minutes of your day 🏋️‍♀️

Love these workouts! They are different everyday and that's what gets results.
Earn points when you complete activites
Share on Social Media

4 points

Post a review

5 points


Redeem Points for rewards
F45 Hat or F45 Water Bottle

20 points

F45 Towel

30 points

F45 Swag Bag

40 points

F45 Tank or F45 Tee

50 points

F45 Heart Monitor

120 points

$40 Off Your Next Month!

200 points
Enter your Name and Mobile number to join the program or check your rewards.
By registering for this program, you agree to receive automated text messages from "F45 Training Cranford".
Opt-in not required for purchase. Standard data rates apply.
Subscribe to receive more offers and news
Join thousands of awesome people, there is only one thing to do.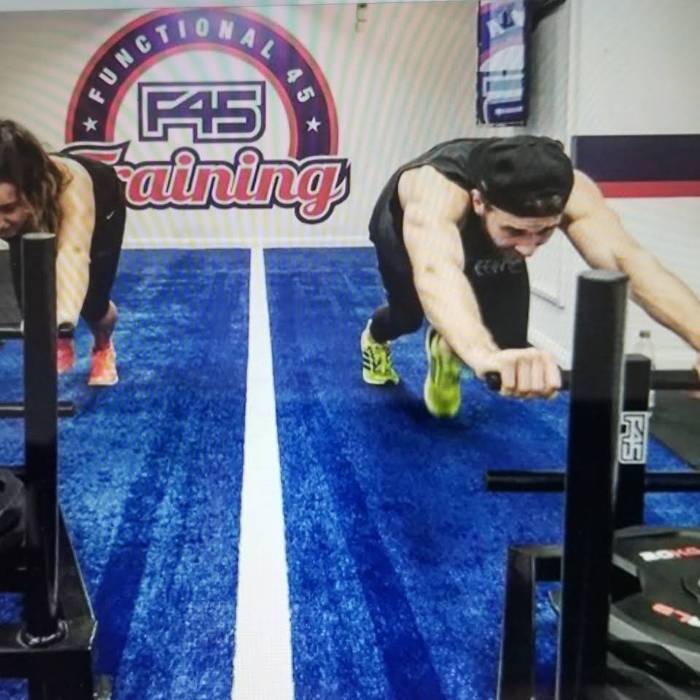 - TEAM TRAINING
- LIFE CHANGING

F45 is turning the fitness industry upside down! F45 Training is the world's fastest growing fitness network. In just 7 years it is has grown to 1800 franchises in 36 countries. No mirrors, no treadmills, and no egos!
Born in Australia, F45 Training merges 3 separate leading-edge fitness training styles into one, consummate and compelling group training experience for its members. F45 Training combines elements of High-Intensity Interval Training (HIIT), Circuit Training, and Functional Training. The fusion of these three training concepts has lead to the development of 32 different, 45 minute workout experiences, with more in development by our F45 Athletics Department. This combination of interval, cardiovascular and strength training has been proven to be the most effective workout method for burning fat and building lean muscle.
The variation of our workout programming keeps our members challenged, eager to grow and ready to have fun.
Team Training – Life Changing
Location
123 N Union Ave
Cranford, NJ, 07016