Call / Text Us: local_phone
Email Us: email
We have a special offer ready for you
1 WEEK FREE TRIAL

Expires in 3 days

Available: 9

TEAM TRAINING. LIFE CHANGING. F45 Training is a global fitness community specializing in innovative, high intensity group workouts that are fast, fun and proven to get rapid results for members.
Customer Reviews
5
star
star
star
star
star
based on 213 reviews
I've been doing this for 6 months and have lost 15lbs! Plus I've gained muscle and feel amazing. Grateful for this group and the coaches. They are the best!

F45 is a fun atmosphere to work out in

Love this place!!! Love all the trainers!

I am so glad we took advantage of the free trial. After a week we were hooked and signed up. We've been at it for over a month now and the results are noticeable. The F45 Heritage Trace staff have been tremendously helpful in making helping us reach our fitness goals. I'd recommend F45 Heritage Trace to anyone looking for an excellent workout regime.

Went to my first class today. I thought I was in decent shape already, but this was intense. Signed a 6 month contract and can't wait to go back and start seeing results.

This place will not disappoint you

Great workouts. Knowledgeable staff. If you are not using proper form they do provide a gentle reminder and will show you proper form.
F45 is an awesome workout for anyone trying to get back in shape. The coaches are amazing!

So glad we joined F45 at Heritage Trace. The facilities, trainers and entire experience has been stellar.

Best decision ever! I'm seeing results and losing fat! That's key. I get stronger every week and can see major improvement from when I started. And the team like feel is super helpful.

Just started F45 and today was our first strength day. All I have to say is F45, where have you been all my life?? I really needed this guidance and discipline. Thank you! So worth it!

Love the workouts and the staff

Wonderful people to be training with

Best gym ever, won't regret
Absolutely love F45! The trainers are amazing and the workout kicks your butt!

Love this place! Great workout everytime!

Tried F45 and it's a great workout for your wholw

Amazing place- awesome vibes, great people, and the workout will get you RIGHT!

I love this place! The workouts are amazing and everyone is so helpful

Great place to get a really good exercise and stay motivated.

Best gym ever and Ive been to them all! So challenging and so good.

You will leave this place gasping for air!! These workouts kills!!!!!
Getting stronger every day. I can't believe the difference I'm seeing in 3 months. Love that it changes every day and everyone is so nice.

F45 Heritage Trace has given me the best workouts! The trainers are awesome and so are the members! I highly recommend them if you are looking for an awesome workout!

I've been doing F45 for two years and really think it covers all my exercise needs. If you keep it up, you will feel great and look fantastic!

I love F45 been coming for 2 months and I'm amazed at how much stronger I've gotten. I'm definitely seeing results and have never worked so hard. Love it!

Love this place! The workouts are intense but fun!
These Trainers will push you to a limit you never knew that you ever had! These workouts are killers and won't leave disappointed! Just tired Aha!! Strongly recommend that you give it a try!!

Love this gym!! Feeling stronger everyday. Never pushed myself like this, you can see what's possible!

Awesome facility and trainers

Love this place. Great workouts, and the coaches are so helpful and friendly

I love coming to F45 heritage trace!

Very motivated trainers. Intense workouts. You won't be disappointed

I am loving F45! The workouts are challenging but fun. They are different each day which is the best. All the trainers are fun and personable.
Such a great workout! Paige was awesome and it went by so fast!

I love working out at F45! It's a new challenge every day and it's only been a few weeks but I'm seeing improvement already. Can't wait to see myself in 3 months!

Great workout! Great trainers! The facility is open and ready to help you achieve your fitness goals.

Always upbeat and fun. It's a great workout and you'll definitely see results if you stick with it and eat healthy.

#F45 best workout around. Come get some!!!

F45 is one of the best workouts you can do! Gets your heart pumping every time. The instructors are all very friendly and professional!

F45 is the best workout. I've never stuck with a workout like I have with F45. I've been a member for over a year and I love it.
Great workout and fun friendly atmosphere. Highly recommend.
Earn "2 Weeks FREE" with our Loyalty program
Earn points when you complete activites
Every time you Check-In

1 point

Share on Social Media

3 points

Post a review

7 points


Redeem Points for rewards
FREE F45 Kettlebell KeyChain

20 points

FREE Trucker Hat

25 points

Water Bottle or Towel

50 points

FREE T-shirt

100 points

FREE LionHeart

150 points

2 Weeks FREE

200 points
Enter your Name and Mobile number to join the program or check your rewards.
By registering for this program, you agree to receive automated text messages from "F45 Training Heritage Trace".
Opt-in not required for purchase. Standard data rates apply.
Subscribe to receive more offers and news
Join thousands of awesome people, there is only one thing to do.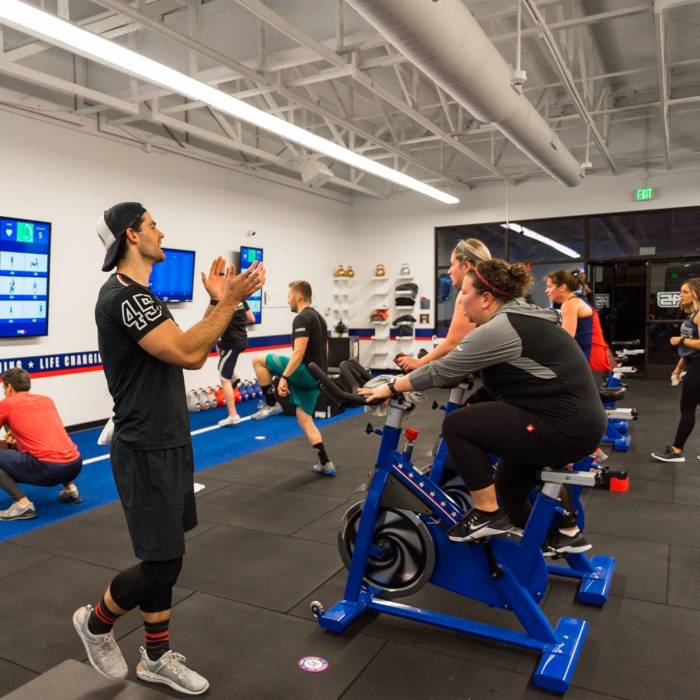 F45 Training Heritage Trace is where a group comes together to build strong, healthy bodies as a team. Since we opened, we've been focused on results and fostering an atmosphere that people of all ages can feel comfortable getting their workout in.

Each of our workouts are diverse and flexible because we know everybody needs something different to thrive. We're here to hold you accountable to your goals and support you every step of the way on your journey to changing your life. Personalized training makes all the difference in your fitness, and with trainers as qualified as ours, the body, strength, and confidence you've been looking for starts in North Fort Worth.
Location
4500 Heritage Trace Pkwy
Ft. Worth, TX, 76244