Call / Text Us: local_phone
Email Us: email
We have a special offer ready for you!
20% OFF our ENTIRE 8 Week Challenge
INNOVATION. MOTIVATION. RESULTS.
CLOSED
Today: 05:00 AM - 07:00 PM
Get Results Fast with our 8-Week Challenge
F45 8 WEEK CHALLENGE

• Daily Meal Plans & Recipes • Weekly Blogs and Videos
• 45 Point Plan to Guarantee Results
Customer Reviews
4.93
star
star
star
star
star_half
based on 70 reviews
Friendly team environment - can't wait to get back!!

Love this gym so much, couldn't recommend it enough!

My favourite gym, love the different daily workouts and the challenge
Only been two days and it's been awesome ! Friendly staff with lots of energy to get you going !

Amazing Saturday workout. F45 madeley

Amazing Gym! love the atmospherr and the trainers that push you to another level

Love the team at Madeley!

Love that the classes are only 45 min & it goes so fast 😊

Love only 45min for each class but leaving like I've
Great workout at 5.55am class

Very intense work out. Always feels good

Amazing work out! F45 madeley

Love the location, the environment, love that there's no mirrors, love that's it's 45 mins that you're in and out, love the variety

F45 suits me well, I love it.
Amazing team! Always a friendly enjoyable experience.

I love how F45 takes the thought process out of working out. I turn up, it's all so simple to follow and the vibe is very motivating. I wish I had joined earlier.

Great atmosphere, friendly coaches

Great way to get in shape fast

Love my F45 training! It's so much fun and a great workout all at the same time!

Great way to get back into shape quick!
Awesome classes, always leave feeling like I've worked hard! Trainers are great too.

Love F45 Madeley! Highly recommend

Joined recently and absolutely loving it!!

Love the workouts and amazing trainers! 😊

Best coaches ever and such a good environment!
Coaches are full on energy and always give great motivation!

F45 Madeley is so clean and the trainers really stop to help you with each exercuse. Not to mention they also push you that litttle bit further

Love F45! Once you start you will wonder why you didn't start earlier!

Great supportive environment, friendly coaches and a huge area to get your workout done!

Great F45 - trainers are great helping you to get the most out of your workout . Highly recommend .

Love F45 Madeley , great vibes awesome trainers hard work and loads of fun 🥰👌🏻💪🏻👊🏻
Love F45 Madeley, friendly group of people and such a fun environment to be in.

Great atmosphere and great trainers. F45 is a super concept - no time wasted and you get results
Earn "FREE FORTNIGHT of Training" with our Loyalty program
Earn points when you complete activites
Every time you Check-In

1 point

Share on Social Media

4 points

Post a review

5 points


Redeem Points for rewards
FREE F45 Branded Keyring

15 points

FREE F45 Branded Cap

25 points

FREE F45 Branded Top

55 points

FREE F45 Branded Duffel Bag

85 points

FREE FORTNIGHT of Training

170 points
Enter your Name and Mobile number to join the program or check your rewards.
By registering for this program, you agree to receive automated text messages from "F45 Training Madeley".
Opt-in not required for purchase. Standard data rates apply.
Subscribe to receive more offers and news
Join thousands of awesome people, there is only one thing to do.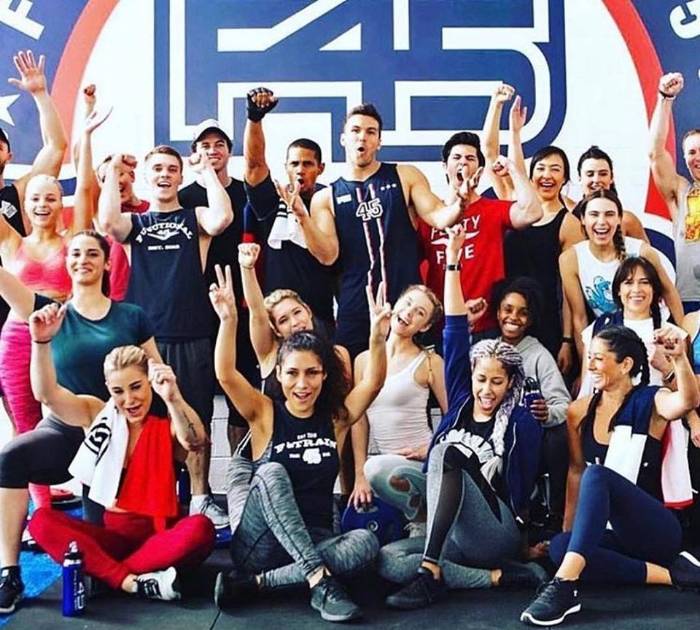 F45 MADELEY
F45 Training is the new training technique leaving competition and clients gasping for air. F45 is the most innovative, challenging and systemised team training workout in the world. Come and train like the stars at F45 Training.
Born in Australia, F45 Training is a team-based, functional training facility that places a huge emphasis on the 'three key factors' of motivation, innovation, and results. Merging 3 separate leading-edge fitness training styles into one consummate and compelling group training experience for its members. F45 Training combines elements of High-Intensity Internal Training (HIIT), Circuit Training, and Functional Training
The fusion of these three training concepts has lead to the development of 31 different, 45 minute workout experiences, with more in development by our F45 Athletics Department, meaning you'll never do the same workout twice. This combination of interval, cardiovascular and strength training has been proven to be the most effective workout method for burning fat and building lean muscle.The variation of our workout programming keeps our members challenged, eager to grow and ready to have fun.
Ready to join the movement? For more information visit us online www.f45training.com
Team Changing-Life Changing
Location
Unit 2/1 Venture Loop Wangara
Perth, , 6065