Call / Text Us: local_phone
Email Us: email
We have a special offer ready for you
1 WEEK FREE TRIAL

Expires in 8 days

Available: 4

TEAM TRAINING. LIFE CHANGING. F45 Training is a global fitness community specializing in innovative, high intensity group workouts that are fast, fun and proven to get rapid results for members. .
Customer Reviews
4.99
star
star
star
star
star_half
based on 159 reviews
This place is amazing. The variety in the workouts, and the positive team energy make the time fly!

Love the coaches and their desire to support your health goals no matter what

Love this place! Great workouts!

I love F45 south McKinney location has the best coaches and everyone is really motivating!!

We've been attending F45 McKinney for five months now and love it!!

Love F45 South McKinney! Great coaches and a great workout. Love the fast paced workout. You will leave having an amazing workout in 45 min!
Best work out family I have been a part of.

Today's workout was great!! I was super motivated and the trainers pushed us hard!

never been in better shape and the coaches here are incredibly friendly and build relationships with the team!

The workouts are hard but fun. I am not a gym rat but I actually have a good time getting my butt kicked at F45 South McKinney. The awesome coaches make it fun too which makes the 45 minute workout go by faster. Highly recommend you come give it a try, you won't regret it!

Absolutely love the workouts!
F45 is the best workout in McKinney

Amazing people and killer workout. I always feel accomplished after my F45 workout.

Great family like atmosphere, along with amazing trainers!

it's never too late to join the f45 fit-fam !!

Join F45 they have the best trainers and will help with all your health goals!

F45 SMCK is literally the best! Everyone here is so nice and classes are fun! If you want to challenge yourself with a supportive gym family on your side, then try F45 out!

F45 is an amazing place to push yourself and go beyond your limits
Steph is a solid trainer!

F45 is the best! I always feel great after each workout and I'm always motivated to go workout each day

We love this place! It's very regimented, consistent, professional and clean.

Great workout and trainers

amazing !! trainers are super sweet!! so far the best experience i've had at a gym

Amazing workout and people at this gym

I love F45! Post baby I needed something to keep me active to lose the baby weight. It's hard for me to get motivated at home. F45 helps motivate me, holds me accountable, it's hard work but so much fun. I love coach Stephanie and Alexa! They do such a good job of cheering you on, making sure you've got good form, and push you to do that extra rep!!
I love this place! I've only been going for about a month and I'm already feeling the changes! I'm way more energetic and I'm learning so many new things !

I so so happy with my results is the best place to work out.

after each one i'm super sore. great place to go

I love this gym, I sincerely recommend it. The coaches are always motivating you and guiding you step by step. It's life changing and an amazing experience.

F45 South McKinney has been an amazing journey for me due to their discipline in the workouts they use, my goal is to lose weight but most important be able to do the workouts the right way. Stephanie and the other couches have been very patient and helpful with me and that is something I like because it tells me they care about their clients. Thank you guys!

Amazing staff and wonderful atmosphere

Love the coaches and fast paced environment
Love this place ! The environment is very welcoming and the coaches are amazing!

I haven't stop going since I started and I'm close to my second month for those that are still think just do it I promise you, you will be like me and the best part is the results.

Love everything about this gym! I personally am not a fan of gyms because they can be overwhelming when you don't know what to do. F45 is perfect for those who want to achieve personal fitness goals without feeling overwhelmed or embarrassed of not knowing what to do or how to go about achieving those goals. F45 is an innovative way for individuals to achieve their goals. The coaches are incredible and I like that they each made a point to get to know me. Every workout is a challenge however I always feel like I can take on the challenge because the coaches remind me that it's possible. So totally recommend.

Love the energy here and how the coach's make sure your form is correct

The staff here is amazing and they make everyone feel welcomed! Love it here!!!! So excited to start my journey here! 😊😊😁
Amazing workouts and trainers! They really push you to your limit

Love coming to the 5:30 am classes!
Earn "2 Weeks FREE" with our Loyalty program
Earn points when you complete activites
Every time you Check-In

1 point

Share on Social Media

3 points

Post a review

7 points


Redeem Points for rewards
FREE F45 Kettlebell KeyChain

20 points

FREE F45 Towel or Water Bottle

25 points

FREE F45 Hat

50 points

FREE F45 T-shirt

75 points

FREE LionHeart

100 points

2 Weeks FREE

150 points
Enter your Name and Mobile number to join the program or check your rewards.
By registering for this program, you agree to receive automated text messages from "F45 Training South McKinney".
Opt-in not required for purchase. Standard data rates apply.
Subscribe to receive more offers and news
Join thousands of awesome people, there is only one thing to do.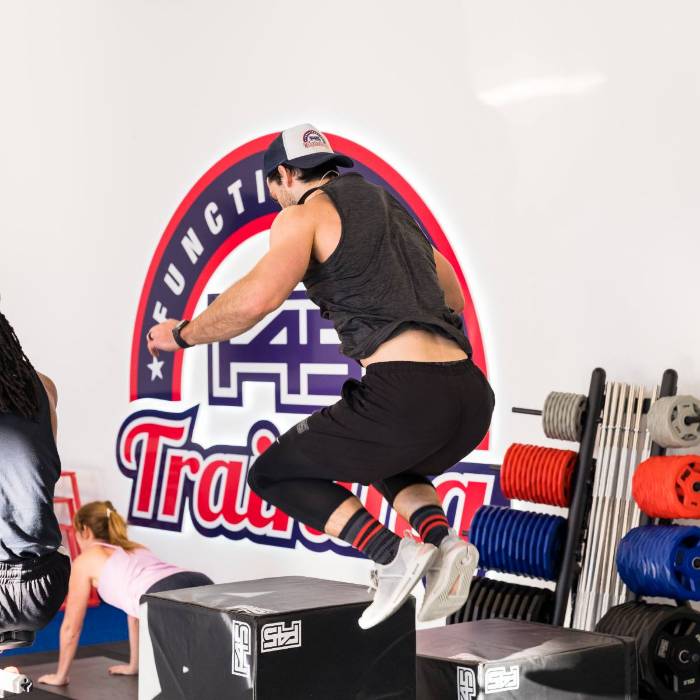 F45 Training is a global fitness community specializing in innovative, high-intensity group workouts that are fast, fun and proven to get rapid results for members.
F45 Training is where a team comes together to build strong bodies together. Since our opening, we've been focused on results and fostering an atmosphere that people of all ages can feel comfortable getting their workout in. Each of our workouts are diverse and flexible because we know everybody needs something different to thrive. We're here to hold you accountable to your goals and support you every step of the way on your journey to changing your life. Personalized training makes all the difference in your fitness, and with trainers as qualified as ours, the body, strength, and confidence you've been looking for starts here.
Location
2890 Craig Dr Suite 140
McKinney, TX, 75070