Call / Text Us: local_phone
Email Us: email
F45 8 WEEK CHALLENGE

8 October - 2 December

• Daily Meal Plans & Recipes
• Weekly Blogs and Videos
• 45 Point Plan to Guarantee Results
Customer Reviews
5
star
star
star
star
star
based on 39 reviews
Best gym for endurance and strength training! Perfect for athletes and anyone looking to get in shape.

If you want a gym that doesn't feel like a chore to go to everyday this is the gym. I never get sick of the workouts and I NEVER feel like it's too easy for me. The staff is amazing and anyone at any fitness level can do these workouts!

This gym is more of a family than a gym! I couldn't be happier!

Great workout! F45 has everything set up and ready for you to come in and hit it for 45 minutes! Workout done!

Fabulous workout with such friendly, encouraging people!

I love the F45 gym at the Eagle location! The trainers are amazing and very attentive to ensure you get a great workout while making sure you are doing the moves correctly! 10/10 would recommend!

i was nervous about my first class but lauren & sally made me so comfortable & motivated !! thank you

Awesome first visit to F45 Eagle!
Best place to get a good workout in!

I love F45! It kicks my butt into gear. Everyone is friendly and supportive! ♥️♥️♥️

I could not have found a better gym. I have made 4 friends at this gym that will last a lifetime and I have found my love for sweating again!

Love the verity of the workouts as well as the amazing coaches.

Best place ever to workout!

Great workouts and excellent staff!

This gym is straight fire! Will you definitely achieve your goals here, the trainers are fantastic and one of a kind. Great atmosphere, very clean and organized. Love this place
Best place to get in shape, lose weight, or train for something specific!

I love it here I've been trying to find a facility like this and it's awesome all of the coaches are great they all help you if your not sure on how to do a step it's great won't ever leave!

Amazing coaches, workouts and community!

Highly recommend! Great motivational environment!

Great first workout. Did not disappoint

I love working out at F45! Trainers that want the best for the clients and awesome workouts!!

Best workouts of my life. Fun and hard.

We had a GREAT experience at our first class! The staff was welcoming and supportive, since it was our first time being there! We will be back!
I love being a part of this gym! I've gained confidence, friendship and so much knowledge on form, diet and what works for my body. The workouts are never the same which keeps me interested and looking forward to the next one! Great staff, I love that they genuinely care about the success of their members and the relationships they build.

Love goi f tonF45 South Eagle!! Was gone for a week and missed it! It's my routine now hard to break away

Great place to work out. Good energy an great trainers.

Best First Experience Ever!!!!! Friendly hands on professional staffs, Amazing Atmosphere, great equipment, and a kick ass workout!!!! What more could you ask for, Love this place already❤️

This place was great, great workout, music and trainer.. I def recommend going here if you want a great workout. Oh and the cold lavender towels at the end are such a plus.

All the sweat was worth it for the lavender towel at the end.

Best work out I have ever done!!
What a great way to get or stay in shape, instructor was very helpful and knowledgeable. I will be a little sore but can't wait to start again tomorrow.

Best 45 min workout there is!

F45 is a fun, high energy group workout I would recommend to anyone! The south Eagle location is brand new great space with great equipment. The trainers so motivating and involved it's a great 45 minute to an hour work out! Quick in quick out you've gotta try F45

Love F45! I feel my body getting stronger every day and I think it is an addiction! I can't go without it!

This gym is absolutely amazing and everything I could ask for. From the trainers to the other gym members. Definitely reccomend them!!!

Love this place and all the trainers!
Earn "$25 off Next Month" with our Loyalty program
Earn points when you complete activites
Every time you Check-In

1 point

Share on Social Media

4 points

Post a review

7 points


Redeem Points for rewards
F45 Keychain

50 points

Free Water Bottle

75 points

$25 off Next Month

200 points
Enter your Name and Mobile number to join the program or check your rewards.
By registering for this program, you agree to receive automated text messages from "F45 Training South Eagle".
Opt-in not required for purchase. Standard data rates apply.
Subscribe to receive more offers and news
Join thousands of awesome people, there is only one thing to do.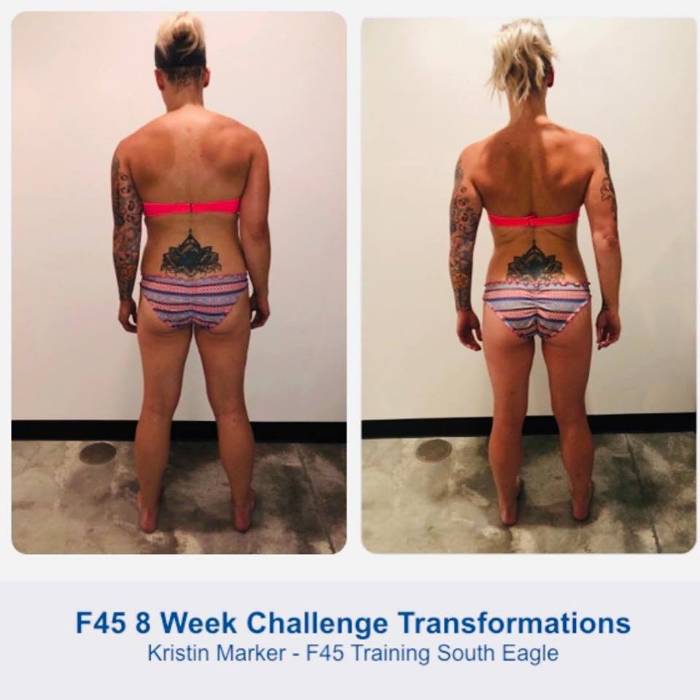 F45 SOUTH EAGLE
F45 Training is the new training technique leaving competition and clients gasping for air.
F45 is the most innovative, challenging and systemized team training workout in the world.
Come and train like the stars at F45 Training.
Location
2794 S Eagle Rd #130
Eagle, ID, 83616