We have these special offers ready for you

Why our customers say we are the best
Customer Reviews
4.99
star
star
star
star
star_half
based on 285 reviews
I totally love the intensity of the exercise and the sense of community at twisted cycle

Love the training! Pushes me every time!

I started personal training two months ago, and I love it, and Jason is awesome!

Love building my endurance!! I feel so much better!

Love the energy of the coaches! The workouts are always different too! Love this place.

Great facility with awesome instructors
Awesome workout! HIIT cardio and weights. Motivating with 1st class instructors pushing you will focused on form.

LOVE Katie!!! You will be missed sweet gurl!

Burned 1130 calories today. I love it. Thanks TC

Love this workout! It's always different and the instructors are great!

I love the workouts and I the staff. They are super friendly and help you if you need to modify your workout.

I see results so quickly here!

Today was my first day, and I absolutely loved it the people are super encouraging and it makes me feel so great about myself afterwards
Supportive ppl and a killer workout!

I love twisted cycle… I joined when they had the pre-opening membership and Woodstock and I have to say everyone there really cares about your health and they take the time to talk to you and I've never met such great coaches in my life. I would highly recommend twisted cycle… Any of the locations but I favor Woodstock!❤️

The HIIT classes are fun and challenging. I feel so energized after class...well, once I catch my breath.

Amazing class!! A great mix of cardio and weight training.

Really enjoyed the atmosphere!
The best workout and it never gets boring. Do yourself a favor and try Twisted Cycle!

First class here and it was awesome! Going back Thursday. 😂💪🏻

AMAZING workout! Get your cardio and strength training in. They dont play! Hardcore 1 hour workout! Love it! Love them! They really know how to push and motivate!!!

TC always gives me a GREAT workout!! Always love my time I spend there.

The BEST gym! Kindest and most encouraging staff ever!

Best total workout and calorie burn!
Totally out of my comfort zone, but it was great!

🏋️‍♀️ Best cardio CrossFit workout training I have ever done!!

Great Teachers, Great Environment, and always Changing and Challenging

Excellent Workouts. Great Instructors. Fun environment.

I've tried drenched fitness in California. Crossfit for 6 years, yoga, orange theory. This is absolutely the best workout and program I have come across for me. I'm so lucky to have found it. The owner Jason is great and the trainers and staff are fabulous. They care about you and check on you. It is very personalized and they are always pleasant. Everyday. I go 6 times a week or I try and I love it!!! It's the best part of Georgia for me!!!!!

Game changer!!!!! The people at Twisted cycle are amazing! This place has changed my life forever!

Love love love these classes and the variety of instructors!!!!

I am enjoying the classes! The instructors really push you. The workouts are tough! But, you feel accomplished when you are done.
Want a great workout try Twisted you won't regret it!!

Great workout every time! It's more than just riding a bike.

I hate to exercise but I LOVE Twisted Cycle!!

Amazing place! Amazing people! Amazing atmosphere!

Love Twisted Cycle. Been going there since the day I got medically cleared to go back to working out after having my daughter. And I have seen a huge difference in my strength and stamina since!

They are super nice and great workout!
I have been going for two weeks and have absolutely loved the work outs, the environment, and most of all the people!

This is the best place I have ever worked out. It's like a family. Every instructor is encouraging and motivating! I've never been so #addicted to any workouts in my life!!!
Subscribe to receive more offers and news
Join thousands of awesome people, there is only one thing to do.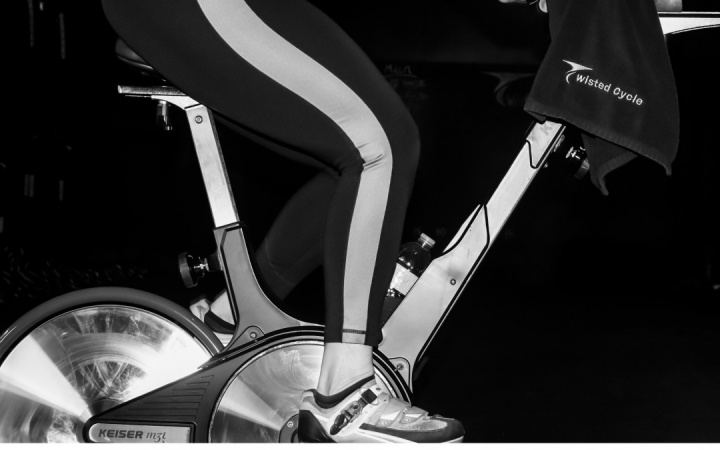 Breakdown: 
Twisted Cycle is a high energy, encouraging environment that combines the cardio benefits of indoor cycling with the strength and muscle building/shaping power of strength training. With over 15 different formats, and 10,000 combinations of exercises, you'll never get bored or feel that you're doing the same thing over and over. There are 3 different versions of every exercise to accommodate every fitness level. 
Technology: 
During the workout, our participants wear heart rate monitors that track their calories, heart rate, and heart rate zones. This allows each participant the real time visual of how hard they are working during class. At the end of every class, the results for each individual will be uploaded to their own Twisted Cycle app so they can track their progress over time. 
Instructors: 
Each one of our instructs has extensive knowledge of fitness. This allows them to make corrections/modifications for every exercise. 
Location
2370 Towne Lake pkwy
Woodstock, GA, 30189