Call / Text Us: local_phone
Email Us: email
Customer Reviews
5
star
star
star
star
star
based on 15 reviews
Julie does a fabulous job! Great morning eye opener.

I have completely fallen in love with this style of yoga and all the mental and physical benefits it brings to my daily life. The owner, Meg and all of the other instructors are wonderful and bring a strong feeling of community throughout their practice.

Really enjoyed class made me feel right at home.

Very much enjoy the class and instructors!

For those of you looking for a place to go, that is inviting, energetic, authentic and just amazing place to go and just be, I highly recommend Ignite Power Yoga Studio. This place has become my "Happy Place" Bad day - go get on your mat, Good Day - go get on your mat. The feeling you have when you walk in to this place is welcoming and wonderful and you leave fully energized or completely content. It's the calm that it brings me that I truly live for.

6 years later and still in awe of the strength, power, and commitment of the incredible teaching staff. I am pushed to explore out of my comfort zone and also settle in with what is. Grateful for the community and transformative practices at Ignite.
Ignite is my favorite yoga studio! I love all yoga, but hot yoga is my favorite. All of the trainers are incredibly knowledgeable and always know how to assist with form corrections and alignment. Love love love Ignite! You won't regret checking them out ☺️

Great Yoga ! Virtual and/or Studio

I have tried all the yoga studios in Dubuque, and Ignite is my favorite! Great yoga and kind people.

The bike and yoga class was wonderful! Just what I needed!

Ignite helps my mind relax while strengthening my body.

Loved this bike and yoga combo! Excellent job by the instructor, Raquel!

Love a good sweat and the chance to step more fully into the present by clearing my headspace
Earn "Free Month Unlimited Yoga" with our Loyalty program
Earn points when you complete activites
Every time you Check-In

2 points

Share on Social Media

5 points

Post a review

12 points


Redeem Points for rewards
1 FREE Yoga CLASS

20 points

Free Guest Pass

30 points

30% OFF your next month

50 points

50% OFF Single Month Unlimited Yoga

70 points

Free Private Session

100 points

Free Month Unlimited Yoga

150 points
Enter your Name and Mobile number to join the program or check your rewards.
By registering for this program, you agree to receive automated text messages from "Ignite Power Yoga Studio".
Opt-in not required for purchase. Standard data rates apply.
Subscribe to receive more offers and news
Join thousands of awesome people, there is only one thing to do.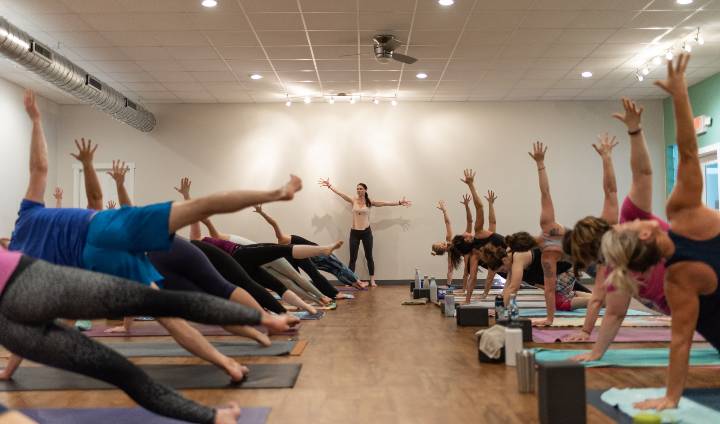 Dubuque's premier hot yoga studio. We specialize in sweaty Baptiste Power Yoga for every-body, every-level, everyday. We exist to spark possibility.
Ignite is Dubuque's premier hot yoga studio serving up a specialty of sweaty vinyasa yoga that is for every level. Step into the bright and inviting space and join a community of empowerment and mindfulness.
Our team of teachers specialize in a style of yoga know as Baptiste Yoga and skillfully deliver each class from presence and connection. As teachers we are students first. Why we fell in love with this yoga is that it invites our playfulness and individuality right in the middle of a supportive community of collaborative breath where the ebb and flow brings energy to take us somewhere new in exploring our bodies and minds. It delivers a great sweat and causes us to grow. We know that this yoga will give you tools for growth on and off your mat. We want to share it with you!
With the temperature hovering in the low to mid 90's, you can expect to tap deep into your body's muscles & tissues. You will receive plenty of healthy alignment tips. You will breathe and sweat like no workout before, release toxins, and strengthen and lengthen your muscles. We want you to take time to care for your body and quiet your mind to get inspired on and off your mat, and to ignite your way of being that supports what matters to you most in life. Come on in!
With gratitude,
Meg Rima -Teacher/Founder
Location
4480 Dodge St
Dubuque, IA, 52003