Call / Text Us: local_phone
Email Us: email
One FREE Week Of Jabz Classes!
One FREE Week Of Jabz Classes

Expires in 2 months

Available: 9

Jabz is for anyone regardless of your age, shape and fitness level. Boxing can be intimidating, but at Jabz we take the intimidation out of boxing and get you in the best shape of your life.
Jabz is for women of all ages and skill levels
Why our customers say we are the best
Customer Reviews
4.94
star
star
star
star
star_half
based on 18 reviews
I've done classes with Cora, Sarah and Ann Marie and they are all fabulous!! Jabz is by far one of my favorite workouts. The facility is clean and we'll organized, the staff is so friendly and motivating.

Lots of fun...great workout!

Great studio, friendly and caring trainer. Go check it out!

Amazing women and atmosphere

such a great workout and the trainers are awesome!

Amazing work out! keeps you moving and never gets boring. Staff is very supportive and helpful with technique and keeping you motivated. Definitely an over all great work out for ALL levels!!

Great people... great workout! Thanks Jabz Mesa!!

This my first time doing anything like this and I loved it.
Instructors are friendly and attentive. Daily one hour sessions offer variety of exercises, you won't get bored. It's a great way to get fit and healthy. I would have given it five stars but am only been a member for a week.

Love Jabz in mesa! Ann marie rocks!!

JABZ is a fun judge mental gym, I highly recommend anyone woman size, shape, age give it a try you'll be hooked after you throw those first punches! Sign up today, it will be the best thing you do for yourself! #girlspunchhard

I really enjoy working out here the teacher are very good enthusiastic and professional.I highly recommended to anyone looking to get fit in a fun environment. It reallypush ypu to your limit no matter what level of fitness you are! I already see results and its only been a month and half

Class was challenging, but still fun. This beats going to the gym and spending time on a boring treadmill. The class instead helpful on my first day and it was nice to see the other ladies in class encourage each other. I will definitely be going back.

Friendly and supportive staff

Love the staff, the location, and the workout!
It was a great workout! Highly recommended going

Second day doing Jabz. The instructors so far are awesome! The class is challenging and everything on me hurts right now, but it feels so good! I like how there are 16 different circuits and it's different every day. Keeps it interesting. Looking forward to experiencing g the other classes.
Subscribe to receive more offers and news
Join thousands of awesome people, there is only one thing to do.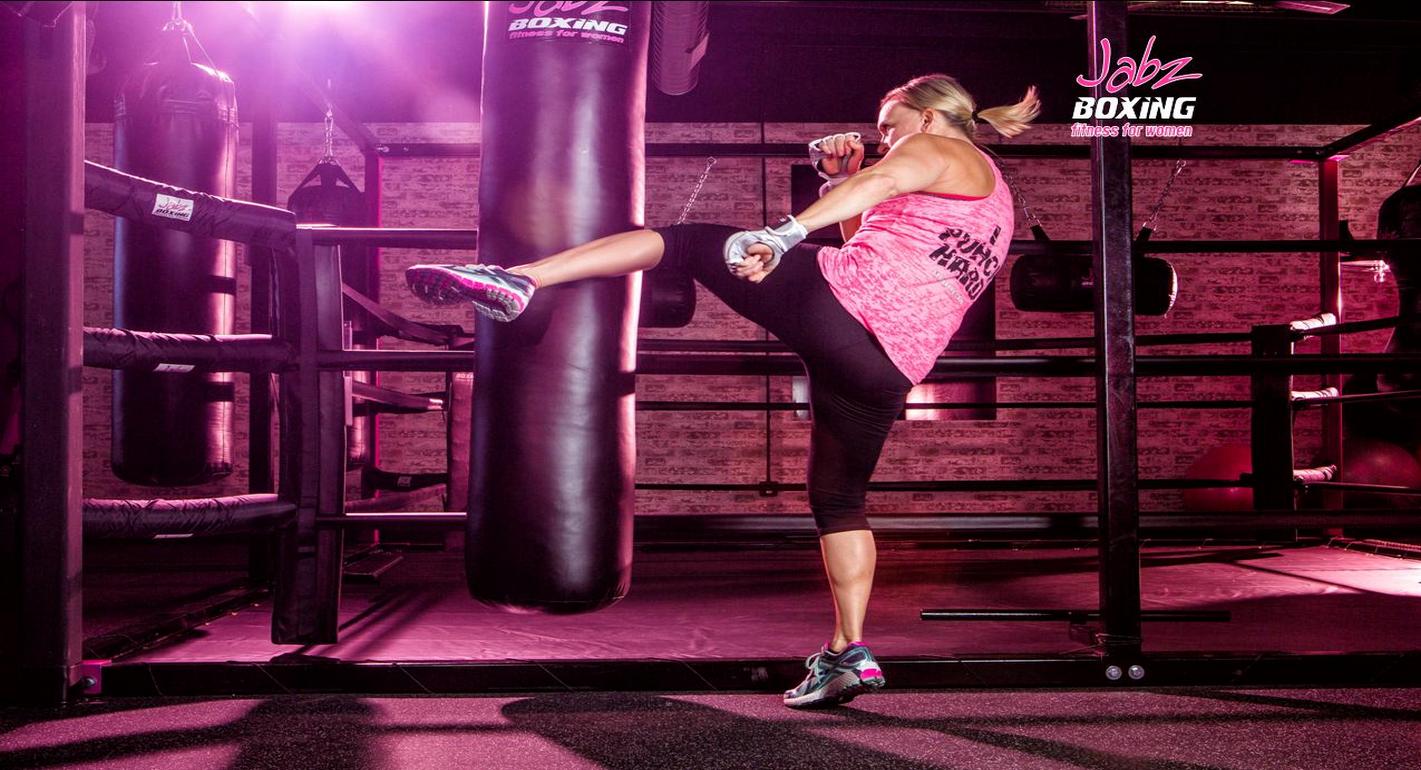 "I wasn't in the best shape and was incredibly intimidated starting this journey. But the Jabz trainers are awesome and know exactly how far to push you! I've never felt judged and everything really is "go at your own pace." I love the trainers. I love the support from the other women working out. I love Jabz!" – Kaycie B.
THE JABZ EXPERIENCE
Jabz Boxing Fitness for Women is a circuit workout that combines boxing with cardio, strength training, plyometrics and numerous other functional exercises to produce maximum results for your body. Our classes are limited to 16 women to ensure each member receives truly personalized attention from our trainers. Please allow an hour for your workout from start to finish.
Select your special and set-up an account. Before coming to Jabz, all new and existing clients register for classes online. If it is your first class, please arrive 10-15 minutes early for orientation to ensure proper boxing techniques and form.
You will begin each class with a warm-up that consists of rowing, shadow boxing, jump ropes and speed bag work. The daily workout will then be demonstrated by one of our Certified Jabz Trainers, followed by our fast moving, full body, high intensity, boxing-inspired circuit. Workouts change every day to ensure your body will be constantly be challenged. Our certified trainers are there to motivate, provide individual exercise modifications and correct form. Each class ends with a trainer-led cool down stretch.
The Jabz workout is for ANYONE and EVERYONE. Whether you are a beginner or you are looking for a more challenging class, the Jabz workouts are designed to be modified to meet all clients' needs. A Jabz trainer will push you to your own personal limit!
Location
3638 E Southern Ave
Mesa, AZ, 85206