Every once in a blue moon, a beauty breakthrough comes along sets a new standard for skin care...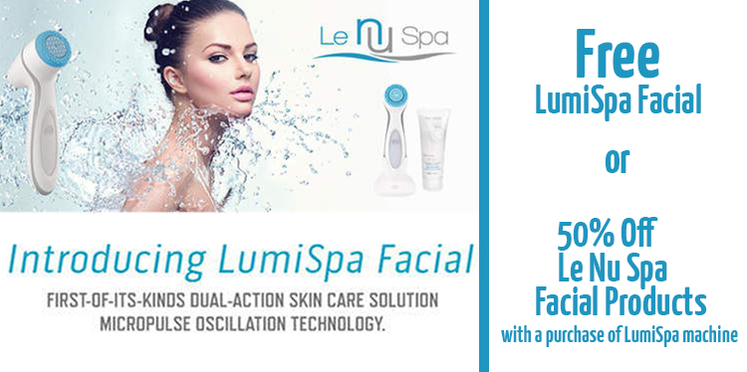 Hi ,

Le Nu Spa is proudly introducing Breakthrough Skincare LumiSpa machine
LumiSpa® gently - yet deeply - cleanses away dirt, oil, makeup, and toxins through its patent-pending counter-rotating, pore-tightening action. It leaves skin smoother and purer while reducing the appearance of pores. And the stimulating, massaging LumiSpa experience will leave you looking forward to your next treatment.
Experience brighter, softer, smoother skin and an energizing facial massage. Simply spend two minutes twice a day to enjoy healthier, youthful looking skin in as little as two weeks.
We offer FREE LumiSpa Facial or 50% Off Le Nu Spa Facial Products with a purchase of LumiSpa machine for ONLY $199!
Revise your routine and with rejuvenating results that will set the tone for a brighter tomorrow, courtesy of our exclusive new client specials from Le Nu Spa.

Le Nu Spa donates $10 towards Vietnam SEA Children's Heart Fund for every LumiSpa machine sold:)