Call / Text Us: local_phone
Email Us: email
We have these special offers ready for you
FREE CONSULTATION + 30% OFF YOUR FIRST VISIT (LIMITED TIME OFFER)

Expires in 1 month

Available: 14

We offer affordable, safe and effective Acupuncture in a peaceful environment. Individualized acupuncture treatments are offered in our private treatment rooms and our spacious community room.
Community Acupuncture

Seven Directions Community Acupuncture is part of a growing national movement dedicated to providing affordable, accessible, and community-oriented healthcare. This concept follows the tradition in Asia, where acupuncture usually occurs in a community setting. Treatments are simple and repeated frequently for best results. The group treatment room creates a collective healing energy that enhances the power of each individual's treatment.

At Seven Directions patients remain fully clothed in comfortable recliners in our peaceful community room. Acupuncture channels flow across the entire body; it is therefore possible to treat back problems, for example, by needling your hands and feet rather than directly on your back. Depending on your symptoms, acupuncture needles may be placed in your feet, lower legs, hands and arms, neck/shoulder, chest, abdomen, face, scalp and ears.

Acupuncture needles are sterile, stainless steel, and hair-thin. They are nothing like needles used for injections! Most people feel no or very minimal discomfort as the needles are inserted and end up falling into a deep sleep during their treatment. While you are resting with needles in place, you may feel some slight tingling, heaviness or other sensations of energy movement.

At Seven Directions we feel that your body knows best, so we will have you relax with your needles in for anywhere from twenty-five minutes to an hour. After treatments, some people feel energized, while others may feel relaxed, and still others may feel hungry. This can change for you from treatment to treatment.

Our Sliding Scale

Acupuncture is most effective when received frequently and regularly. When treated with greater frequency, you will feel better faster and you'll be able to see longer-lasting results sooner. Seven Directions wants you to come in often enough to get well and stay well. Acupuncture does not have to be expensive to be effective. We understand that everyone's situation is different, so we will never ask you for any personal financial information. Everybody is treated the same no matter what you pay on our sliding scale of $20-$40. You decide what fits your healthcare budget.

A Sustainable Business Model

Oriental medicine is an effective tool for cultivating healing, but it's a gradual process. By offering acupuncture at affordable rates, we support people in their commitment to building a stronger foundation of health over time, lessening the need for more expensive and invasive procedures later. "Sustainability" is sometimes defined as taking action with the long-term in mind; we believe that this model is the key to making healthcare more sustainable. By providing a treatment setting in which patients feel comfortable, it changes the role of acupuncture from a form of medical intervention to something you can integrate into your life; a means of relaxing, centering, and nourishing yourself.

Private Acupuncture

These one hour treatments are performed in our private treatment room on a massage table. Private treatments allow for more one-on-one time with your acupuncturist. Many patients prefer this option for a variety of reasons:

Desire for back treatments
Pain conditions in areas that require disrobing
Application of the TDP Mineral Lamp
Preference for privacy
Specialized treatment strategy for fertility issues
Pediatric care
Additional modalities such as Gua Sha, Cupping, Electric Stimulation, and Moxa if needed
More time to discuss health goals and other interventions such as herbal prescriptions and diet and lifestyle modifications

TDP Mineral Lamp

The TDP Mineral Lamp features a plate coated with a formulation of 33 minerals for your body. The heated mineral plate emits deep-penetrating, far-infrared waves. This natural energy is identical to that generated by our own bodies, and is naturally absorbed into our tissues.

Relieves Muscle Pain, Joint Pain, Inflammation and Soft Tissue Injuries
Relaxes Muscle and Improves Range Of Motion

Cupping

Cupping is a traditional method of treatment which involves the placement of small glass or plastic cups over areas of the body using suction. The cups can either be left in place or gently moved across the skin. It can be thought of a sort of a reverse massage and is used to help increase circulation, and relieve congested, tight muscles. It also can be used for respiratory disorders.

Gua Sha

Gua sha is a cutaneous scraping technique that helps to relieve pain and tight muscles. It is often performed on the upper back and neck to help relieve both acute and chronic tension and pain. It is also used to treat colds, flu and upper respiratory infections.

Moxibustion

Moxibustion, or moxa treatment, is another highly effective therapy. It involves burning moxa (mugwort herb) near or on the skin. Like the ultra thin disposable needles used in acupuncture, moxa application is used to stimulate the acupuncture points in order to regulate the physiological activity of the body. It is designed to strengthen and stimulate the flow of blood and qi and is often used to warm the body, relieve pain, calm the nervous system and mind, expel colds, and as a general health tonic. It is also commonly used to help prepare a women for the birthing process and to help flip breech babies.

Electro-stimulation Acupuncture

Electro-stimulation acupuncture is the application of a low voltage pulsating electric current to the acupuncture needles that have been inserted into the skin. A small electrode is attached to the needle and provides a gentle vibration that stimulates the acupuncture point and the local area. It is often used in sports medicine, especially in cases of injury and also for the treatment of neurological diseases, chronic or stubborn pain, spasms and paralysis.

Acupuncture for Fertility

Studies in human fertility have shown that women and men receiving acupuncture along with Chinese herbs, improve their chances for developing healthier eggs and sperm. How does Oriental Medicine help improve pregnancy success rate?

Improves the function of the ovaries to produce better quality eggs
Regulates the hormones to produce a larger number of follicles
Increases the blood flow to the uterus and increases the thickness of the uterine lining
Relaxes the patient and decreases her stress
Helps prevent uterine contractions
Lessens the side effects of the Western drugs used in IVF
Strengthens and regulates the immune system
Improves semen to create better quality and quantity of embryos
Reduces miscarriage

In Vitro Fertilization and Intrauterine Insemination (IVF/ IUI)

Undergoing ART (Assisted Reproductive Technology) without balancing your body and your hormones is like planting a seed without cultivating the soil. We begin with improving blood flow to the ovaries and balancing the hormones in order to prepare your body and enhance your chances of success.

For best results, acupuncture should be used before, during and after IVF. Oriental Medicine can help prepare both partners before IVF in order to improve the function of the ovaries, strengthen and regulate the immune system, reduce stress and improves the quality and quantity of sperm.

To optimize your chances of having a healthy pregnancy and delivering a healthy baby, you should prepare your body for a minimum of three to six months. Your body begins to recruit your eggs about 120 days before they are released, and it takes about 90 days for sperm to renew. This is a window of opportunity for you and your partner to nourish your body to improve egg and sperm quality.
Why our customers say we are the best
Customer Reviews
5
star
star
star
star
star
based on 1 reviews
The best acupuncturists that I have seen .. in've been seeing him for over 4years !
Earn "FREE Private Acupuncture Session" with our Loyalty program
Earn points when you complete activites
Every time you Check-In

1 point

Share on Social Media

3 points

Post a review

6 points


Redeem Points for rewards
FREE Herbal 10 Tea Bags

25 points

10% OFF Any Retail Product

50 points

30% OFF For Private Session

100 points

FREE Community Acupuncture Session

150 points

FREE Private Acupuncture Session

200 points
Enter your Name and Mobile number to join the program or check your rewards.
By registering for this program, you agree to receive automated text messages from "Li Qian Acupuncture".
Opt-in not required for purchase. Standard data rates apply.
Subscribe to receive more offers and news
Join thousands of awesome people, there is only one thing to do.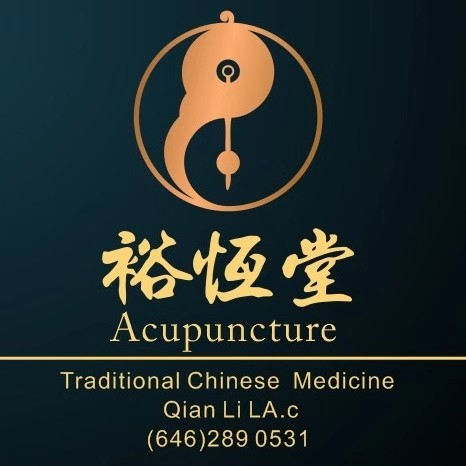 Acupuncture is truly a holistic mind/body medicine and is safe, effective and causes no side effects.
Acupuncture consists of the gentle insertion and stimulation of thin, disposable sterile needles at strategic points near the surface of the body. Over 2,000 acupuncture points on the human body connect with 14 major pathways, called meridians. these meridians conduct Qi , or energy, between the surface of the body and internal organs. It is Qi that regulates spiritual, emotional, mental and physical balance. When the flow of Qi is disrupted through illness, injury, poor health habits, or other circumstances, pain and/or disease can result. Acupuncture helps to keep the normal flow of this energy unblocked, thereby enhanceimg the body's natural tendency and ability to heal itself.
Acupuncture can treat most common ailments and conditions:
Acupuncture improves circulation to speed up healing of chronic and acute pain and injuries.
Acupuncture can boost the immune system for preventative care and improved overall quality of life.
Acupuncture is an excellent complement to other forms of healthcare and can often treat conditions for which conventional Western medicine offers little or no benefit.
Location
150 Broadway Rm 508
New York, NY, 10038