Call / Text Us: local_phone
Email Us: email
Grab a special offer now!
Buy Now - $50 Gift Card for $25 - This week only

Expires in 11 months

Available: 7

Claim 50% Discount - New Customers Only

Expires in 12 months

Available: 5
Why Wax?

Want to keep your skin smooth and soft longer?To keep stubble away longer and get the hair to grow back finer and sparser over time?

Want a solution that is affordable, quick, and easy? Then you are in the right place, waxing is the way to go.

Tweezing is so tiresome and shaving can aggravate your hair growth. Waxing is a great alternative as it's quick and it retards hair growth, making the hair scantier and thinner.

Wouldn't be great to have smoother skin which remains hair-free for 3 to 4 weeks? With regular treatments hair reduction can be long-term, even permanent removal.

Don't wait, call now to book an appointment!

Pre-waxing Tips

- Avoid shaving 2 weeks before waxing as hair should be at least half an inch long

- Shower before you come in, as that will wash off any oils from your hair, making the wax stick better. Using shower scrub is also a good idea as it will loosen up the hairs that stick to your skin

- If you worry about the pain and decide to use a numbing cream, apply it an hour before the service

Post-Waxing Care

- Leftover wax can irritate your skin, so if you see any wax residue clean it with oil.


- Right after that you can either rinse the oil in the shower, or use a baby wipe to clean the oil as oil can clog pores and cause bumps


- Hot soapy washcloth later in the day will finish cleaning out the pores and help reduce bumps.

- Use a gentle exfoliation scrub to slough off dead, dry skin cells. This will help avoid bumps and ingrown hairs post wax.
Why our customers say we are the best
Customer Reviews
5
star
star
star
star
star
based on 9 reviews
Although I recently started seeing Milka I feel very comfortable with her, and there's no awkwardness whatsoever. I've been to a few other salons and none of them measure up. She has late appointment hours - so very convenient. Do check her out!

Milka is unmatched! If you want the best waxing, GO TO HER! She is fast, gets everything and makes the experience the best it can be. You barely feel any pain because she is so quick and knows what she's doing. If you need a break or have particular needs, she is completely understanding. I've moved away but I still drive back just to see her because I had some terrible experiences at other salons.

Fast, thorough, so calming and friendly - Milka is a miracle worker when it comes to waxing. I don't ever want to replace her. You can tell she cares about her job and her clients. Very professional and empathetic.

I can't imagine that there is a better, more professional waxer out there. She's a lovely person and a great professional. I never have to worry about a single hair after my wax. Her salon is small but cozy and perfectly clean. I won't go anywhere else now.

Milka is the greatest! Makes you feel so comfortable and does an amazing job! She is is very personably and puts you at ease. I am not an easy one to wax, and she constantly surprises me, the service is almost pain free! There is no other place to go for your waxing needs!

The most comfortable waxing experience you can get. Much more pleasant than I've had elsewhere. The wax was the perfect temperature and the whole process was over in a very short time period; this made the service not completely painless, but pretty close. Milka continually checked in to see how I was feeling and she made sure that there weren't any stray hairs before I left.Facility is completely hygienic. What else can you ask for?

Milka is top notch. She does an amazing job and keeps the pain to a minimum. She is extremely detail-oriented and yet manages to do an efficient wax. Extremely clean and homey place, love going there.

I always feel welcome there and not rushed. They take the time to get all the hair out, and to make it painless and comfortable for me. I like this gentle approach and friendly feeling. Definitely makes a difference when getting waxed. And yes, the place is sooo clean! Highly recommend!
Impeccable service and great, pleasant staff. They are quick, thorough, and gentle. I am very pleased and will keep coming back.
Subscribe to receive more offers and news
Join thousands of awesome people, there is only one thing to do.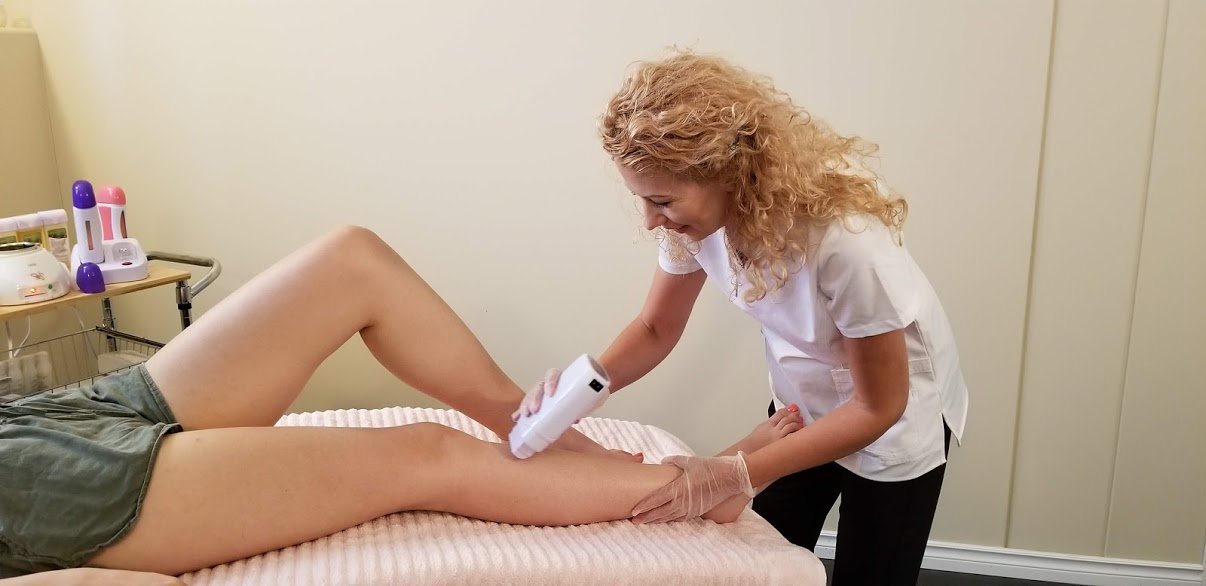 Upper Lip & Chin ...$7
Cheeks, Sideburns or Neck...$7
Full face Wax...$15
---
Half Arm...$10
Full Arms...$20
Underarm...$10
---
Lower or Upper Legs ...$20
Full Legs...$30
Bikini Line...$15
Full Bikini...$25
---
Back...$15
Chest...$15
Stomach...$10
Butt...$10
Location
16136 76st
Edmonton, AB, T5Z3R8