Call / Text Us: local_phone
Email Us: email
We have these special offers ready for you
EXCLUSIVE! 10 day FREE pass!

Expires in 29 days

Available: 13

Karate builds self-esteem, discipline and increases focus. Join us today!
Kids Martial Arts

Metro United Kids Martial Arts Classes include:

Power Pup Karate (ages 5-6): Known as our pre-skills course, we take our kindergarten age students through the very basic stages of development. Focuses in this class include: 

Balance
Identifying their right from left
Timing
Judging distance
And basic martial arts development through fun fit games and karate activities!

We request that Power Pup students undergo a brief assessment before beginning our class to ensure that they are ready to go! 

Junior Karate (Ages 7-12): Among our most popular classes, Junior Karate is perfect for both students graduating from our Power Pup classes and those who have never even tried the Martial Arts. 

Junior Karate classes are divided into four ranks to help students learn amongst peers in their unique developmental stages. Instruction includes: 

Grappling
Striking
Self-defense
Sport Karate
Kickboxing

We request that students in the Junior Karate program attend class at least two times per week to properly grow and retain the information.

Bulldog Karate: The perfect class to help students overcome ADD, ADHD, mild forms of Autism and even at-risk or low-income challenges.

Bulldog Karate provides quality educational and recreational programming to children and adults through the discipline of martial arts, fitness & kickboxing. Our goal is to cultivate the participant for success on and off of the training floor with the character development martial arts provides.

Students develop: 

Self-confidence
Discipline
Focus
Self-control
And increased physical fitness

Plus, the added bonus of learning self-defense combats one of children's most daunting troubles: bullying.

Livonia Fitness Kickboxing Classes

Our Kickboxing Classes offer you the opportunity to take on an exciting and dynamic exercise routine led by world-class coaches. You'll get to practice your K.O. punch on some heavy bags, get your heart rate up with calisthenic exercises, and enjoy the supportive community we've built here at Metro United. Cardio Kickboxing will boost your stamina, enhance your strength, help you lose weight, and give you the confidence you need to face any challenge life throws at you.

Livonia Adult Martial Arts

Customize Our Adult Martial Arts Program To Meet Your Needs

The best part about our Adult Martial Arts training at Metro United Karate is that you're free to choose which classes work best for your goals and your schedule. With multiple offerings scheduled regularly throughout the week, you can pick and choose what you want to learn.

Combine A Great Workout With Incredible Self-Defense

You'll absolutely love the workouts our Adult Martial Arts classes have to offer. Gone are the days where you have to run mindlessly on the treadmill just to stay in shape. At Metro United Karate, you can enjoy working out and see real results in the process. 

Our Adult Martial Arts Classes offer you:

Effective Cardiovascular training
Incredible self-defense skills
Boosted strength and fitness
Unbelievable self-confidence

Start Your Adult Martial Arts Journey Today

Don't waste another minute trying to get fit and learn potentially life-saving self-defense skills somewhere else. Our Adult Martial Arts Classes at Metro United Karate in Livonia offer everything you need to be strong, healthy, and safe - regardless of your previous experience level.

To get started, all you have to do is fill out the short form on your screen. A member of our staff will reach out to answer all of your questions and get you all set up! 

Livonia Summer Camp

Get The Best Summer Camp Options For Kids Of All Ages

How great would it be if a Summer Camp combined education, physical activity, and exciting field trips? Well, with Metro United Karate, that's exactly what you'll get! Our Summer Camps are the most well-rounded in Livonia with an emphasis on all elements of your child's development. 

These day camps are perfect for children in grades 1-9 and include programming throughout the entire day, from 9am until 5pm.

Metro United Summer Camp Helps Your Child Grow In More Ways Than One. 

Don't settle on a camp that focuses its attention on just one aspect of your child's growth. At Metro United Karate, our Summer Camp provides instruction on a daily basis in all three areas of your child's development: mental, social, and physical!

Our Summer Camps include:

Academic Instruction: Students have certified teachers twice a per week for academic studies in the areas of Math & English. Students complete a daily reading log and parents are encouraged to send students with their summer reading requirement. PLUS, we supply reading materials for those in need!

Physical Education: Gross motor skill development is one of our strong points. We host sports, karate, gymnastics and all time favorites like four square, basketball, and soccer just to name a few. And we also have an excellent bully prevention program that develops strong children. Let us prepare your child for the upcoming school year.

Field Trips: Hosted weekly, our field trips provide a change of scenery for your child and include trips to the orchard, museums, swimming, bowling, roller skating and bounce houses just to name a few. Numerous trips to the park/playground & splash pad are a bonus in addition to their weekly field trips.

Take Advantage Of Multiple Summer Camp Pricing Options

We know no two schedules are the same. So with our Summer Camps at Metro United Karate, you can pick and choose how often your child is in attendance.

Livonia After School Program

Metro United After School Program Is FUN, SAFE, And EXCITING!

Give your child the best After School Program in Livonia at Metro United Karate. We serve students in Kindergarten through 12th grade with an and affordable and incredible experience in a structured environment where they can learn, have fun, and stay active while you finish out the workday. 

Each day of our After School Program includes homework help and fun activities that teach team building. Consistently, our kids have soared to new heights in the way they conduct themselves, sportsmanship, and self-confidence. Even more, parents and educators have reported excellent academic improvements!

Our After School Program at Metro United Karate allows your child the chance to get their homework done while also staying active with exciting Martial Arts instruction. 

After School Program is held from 2:30 PM until 6:15 PM and includes activities like:

HipHop Dance
Basketball
Indoor Floor Hockey
Kickball
Karate
Fun-Free-Friday's with Video Games, Movies, Free Play, etc.

The After School Program includes 3 types of classes:Anti-bully defense, Confidence & Leadership development, and Karate/kickboxing for fitness.

Metro United After School Program Includes FREE Transportation

Don't spend another minute at work stressing about who is taking your child home. Our After School Program at Metro United Karate includes FREE transportation for all students from the following schools for 2021: 

Webster Elementary
Grandview Elementary
Branchline
Grand River Academy
Coolidge Elementary

If your school is not listed, call us to inquire about picking up at your Livonia, Redford, Farmington, or west Detroit schools!

Reserve Your Child's After School Karate Spot Today!

For you and your family's safety, we're only accepting 20-25 students this year. Reach out soon, spaces are filling up quickly!

To book your child's spot in Livonia's best after-school program, all you have to do is fill out the short form on your screen and a member of our team will be in touch soon to answer all of your questions.

And don't forget to ask about our sibling discounts! 
Subscribe to receive more offers and news
Join thousands of awesome people, there is only one thing to do.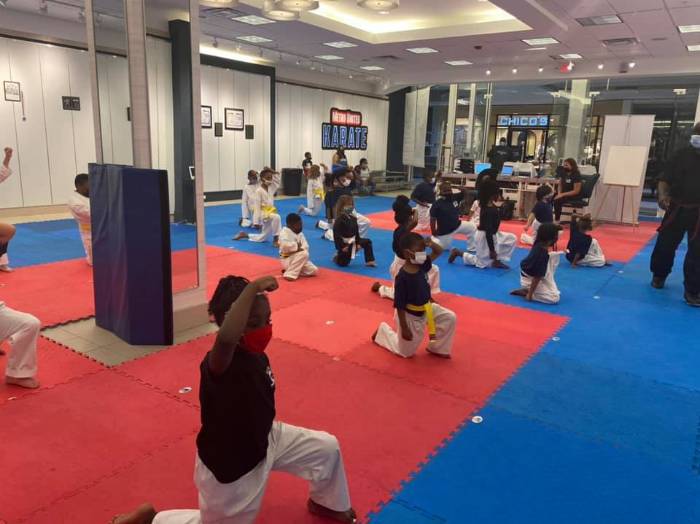 Karate, Martial Arts Instruction, after school programming, kickboxing, self-defense, summer camps & anti-bully programs.
Metro United Karate is located in Laurel Park Mall. Entry from Newburgh Rd. The studio offers classes for students ages 3+. In addition to martial arts we host cardio kickboxing & private lessons.
Location
37560 Six mile road
Livonia, MI, 48152