Call / Text Us: local_phone
Email Us: email
20 yrs of exceeding your expectations with unconditional money back guaranteed personal training
Contact Us send
Open now
Today: 04:00 AM - 08:30 PM
We have these special offers ready for you
Exclusive offer: 2 FREE Personal Trainings

We start where you are. Our training includes homework, diet help, and a full assessment. We start by figuring out where your strength, endurance, flexibility and mobility are, and then design a scientifically back program just for you. We do in home
Personal Training

Please try an hour Personal Training for just $25 and if you don't love it we will refund your money.  Our professional, seasoned, certified and insured Instructors will create a plan to reach your outcomes.  We will suggest how many times you need to train, what your homework and nutrition should be and offer you a strategy that will work.

Group Classes & Crossfit

Platoon Outdoor has been meeting for the past 20 years six days a week rain, snow, or shine. All levels are welcome. Classes meet at Rosemont College in Bryn Mawr, PA outside Lawrence Hall.  We meet 6 days a week Monday through Friday at 6:00 AM and Saturday at 7:00 AM. It is a challenge by choice system of 1,115 movements and exercises taught by a rotating team of seasoned, certified, insured personal trainers. In a typical class, you show up 5 minutes early and warm-up, class starts promptly with a dynamic warm-up which is followed by a PWOD (Platoon Workout Of the Day) and ends with a cool-down. Classes are one hour. To join, click on Member Log-In, complete and submit the form. No further registration is necessary since you will be automatically placed on the roster. In warm weather, wear fingerless gloves and in cold, ski gloves.  Also bring a water bottle you can carry as well as a towel for your car seat.

Martial Arts

We provide the most experienced, professional and seasoned Instructors anywhere for Brazilian Jiu Jitsu, Boxing, Mixed Martial Arts and self defence. From novices to professional fighters, adult to young children we money back guarantee safe, challenging and fun experience. We invite you to schedule a one on one or enjoy a class for just $25. If you don't love it, we refund your money.

Corporate Wellness

Platoon is dedicated to the mission of Constant And Never-ending Improvement of your companies wellness. We build, design, maintain, staff, manage and provide seminars for several public companies like CubeSmart and small businesses with as few as 4 employees.

 
Why our customers say we are the best
Customer Reviews
4.99
star
star
star
star
star_half
based on 73 reviews
I've been working out with Greg who has personalized a plan to get me back in shape after a surgery. Highly recommend Platoon.

Amazing training! I did my trial and already schedule my next training. Looking coward to go again.

Great change of pace and personalized workouts for whatever you want. Awesome benefit that they cater to your schedule.

Reece is an excellent trainer. He is organized and dedicated. The facility at 8th and Walnut is clean and well maintained. Very happy with this company and my results thus far!

The staff is friendly and knowledgeable.
Great workout! Pushes you to your limits! In a good way.

Knowledgeable, friendly trainers. Easy to schedule. Great workouts!

Dave is perfect-genuine, knowing what I need and kind

Dave is the best trainer. So knowledgeable and genuine and humble and helpful. Couldn't be happier with my fitness training

Fantastic trainers and workouts! And is very affordable!

Amazing! Most intense workout and individualized body smart trainers.

Always leave feeling sore like I never worked out a day in my life. Everyone is great and so friendly! Love it here!
There's no better training! Happy

If you're looking for knowledgeable personal trainers and a place that will hold you accountable that works with your busy schedule, this is the place to be! They are really great about working with my knee injury but also pushing me to work my hardest. I highly recommend Platoon Fitness!! The environment and atmosphere makes you want to get fit, stay fit and be healthy and happy.

My trainer Thaddeus is very patient and knowledgeable. He emphasizes on proper forms on techniques to prevent injuries. He is also big on proper breathing techniques.

My trainer Thaddeus is great and emphasizes on proper techniques and forms to avoid injuries. He is awesome.

I've been to many gyms and training facilities and this is the best. Hands down!

I had a session with Reece today, he pushed me to do things I didn't think I could do, all while keeping things positive and fun. Can't wait to go back!
Working out has always been a part of my life and I've spent time in many gyms, but Platoon Fitness is by far the best. From the minute you in the door to the time you leave. I recommend it to anyone.

Excellent! Very good instructors!

This place is bold and beautiful! U should try it out!

Kara is a great training the best so far

Tara is a great training at Platoon Fitness. She really listens to your goals and concerns. I felt my workout was created just for me and body. Thank you see you soon

Not your average gym, excellent staff. Love my trainer, LOVE the gym!!

Great massage- really valuable to have someone who understands how to work with clients that are avid Platoon training participants- highly recommend

Awesome training and better staff who want nothing more than for you to be your best
Awesome training and better staff who want nothing more than for you to be your best

Had good workout w Jim today!

Love the true personal aspect of Platoon. Love Christie! Very pleased. Highly recommend!

Best gym and personal trainers around. It's well run and always intense.

Best gym and personal trainers around. It's well run and always intense.

Best thing I ever did for myself

Amazing trainers and amazing facilities, would highly recommend!
Had a great outside workout w Bill today

Always a great yoga session with Platoon!

Awesome! Cristi really knew what she was talking about, was great at personalizing the class, and was super friendly. Definitely going back!

Awesome! Cristi really knew what she was talking about, was friendly, and did a great job of catering to my needs. Definitely returning.

Very good service. Knowledgeable professionals.

Platoon is an awesome place to train!!!

Something challenging every time

Love it! Steve is a great trainer! Trying to get there more often.
I would recommend Platoon Fitness to anyone-they support all levels of fitness. The trainers are awesome and know exactly how to target your needs-go today, its free for the first session!

There's no better gym! Instructors are knowledgeable, personable, sweet and make each workout different and fun and challenging. I always leave feeling really worked out.
Subscribe to receive more offers and news
Join thousands of awesome people, there is only one thing to do.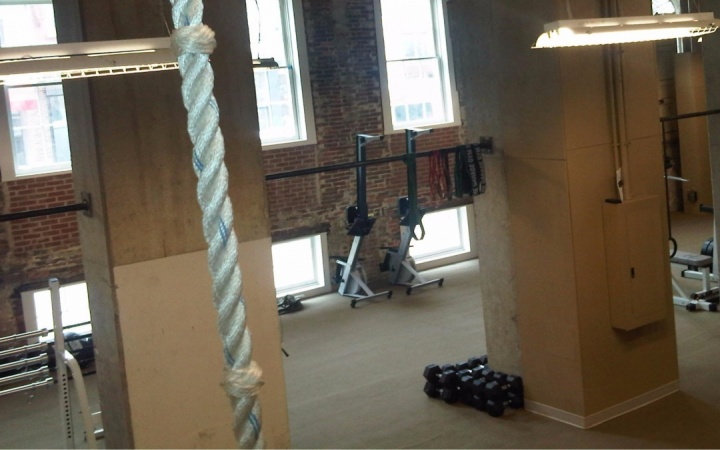 Platoon started in a basement in June of 1998 with an excessive passion for CANI (Constant And Never-ending Improvement).  We are the first in our industry to among other things promise to never use contracts and offer a complete and unconditinal moneyback gurantee on everything we do.  Today we have won just about every industry and media award and set the standard for charitible contributions.  Most of what we do is private or duet Personal Training.  We also build, design, maintain, staff and provide special events and seminars for companies ranging from the largest law firm in the world to a two person start up.  We offer a small number of classes to the public including the oldest continually operated outdoor boot camp, CrossFit and HIIT.  Our Martial Arts are lead by No Gui World Champion Noah Spear who oversees our Brazilian Jui Jitsu, Mauy Thai and Self Defense programs. We integrate Licensed Massage Therapy and Pre Hab or Rehabilitation before you need it.  Certification Seminars we offer to the public include Dynamic Neuromscular Stabilization, USA WeightLifting, Russian Kettlebell, Totten Training, Animal Movement, Pose Running, Eleiko Strength Coach, Wim Hoff, Concussion Return to Play and many more.  We give a percentage of profits to charity and live and work in our communities.  
Location
899 Penn Street
Bryn Mawr, PA, 19010