Call / Text Us: local_phone
Email Us: email
Free Try Me Out Lesson On The Instrument Of Your Choice
Contact Us send
CLOSED
Today: 09:00 AM - 08:30 PM
We have a special offer ready for you
FREE Registration and FREE First Lesson (Reg $79.50)

Expires in 19 days

Available: 7

Are you looking for music lessons in Rockwall? When you enroll for lessons, you will receive FREE Registration and FREE First Lesson! A $79.50 Value!

FREE Registration and $10 Book Credit

Expires in 27 days

Available: 2

Are you looking for music lessons in Rockwall? When you enroll for lessons, you will receive FREE Registration and a $10 credit towards your first book or other music supplies. A $50 Value!
Customer Reviews
5
star
star
star
star
star
based on 36 reviews
I highly recommend Rockwall School of Music. Staff is very friendly. My grandaughter's teacher, Amanda, is so a wonderful teacher and very sweet! My grandaughter said she loves learning to play the piano and looks forward to each lesson.

Great place for music lessons!

Sam loves this place! Everyone is so nice and the teachers are awesome!'

I personally take piano lessons at Rockwall School of Music and love it! I learned to play piano as a child but it's been about 30 years since my last lesson. My piano teacher is great at helping me refresh my skills while teaching me new ones. I highly recommend Rockwall School of Music for all ages!

Our son loves going to his lesson every week and it's amazing how much he's improved in such a short time!
Great teachers and friendly staff! We love Rockwall School of Music!

Wonderful! Excellent! Love the employees!!

Christian started lessons back in November and came home reading music and playing songs on the saxophone.

Excellent teachers and customer service! Our family very much appreciates the student-first approach by RSM!

My daughter absolutely loves this place. Its very welcoming and family friendly. Definitely would recommend

We LOVE Rockwall School of Music! From the first time we stepped in their beautiful facility, everyone was so very nice and welcoming!! My daughter loves learning piano from Mr. Michael! He is so patient and talented.

My daughter has been taking piano lessons for over 3 years and it was the best decision we made. We now have our other daughter taking guitar lessons there. Highly recommended!!! Family atmosphere!!!

My 3 kids go to Rockwall school of music and love it.
My son is taking lessons and has learned so much in only 3 lessons. He can already play by ear!

Great Music School! Our son started when he was still 4 and he loves it. He is just waiting for the Saturday to go to his music class with Ms. Julia.

My seven-year-old is in beginner piano lessons. She absolutely loves it!

Really impressed with Rockwall School of Music! As an adult student, I feel comfortable in the environment. There are students of all ages and levels. They have private and group lessons. I think their recognition program motivates the young students and helps build their confidence. Friendly and professional environment. Their new building is awesome. HIGHLY recommended.

Such an amazing experience at this place!! Everyone is incredible!! Cant wait to learn more!

Great community and encouraging teachers.

Love RSM! Nick is an amazing and inspiring drum instructor.
Very friendly staff! Wonderful teachers

I love my vocal lessons at RSM. I have improved so much in the two short months since I began.

Everyone is so nice and my daughter just loves her teacher!

I love the School of Music. The people there are incredibly nice and helpful.

My daughter loves going to her violin lesson every Friday. Her instructor Monica is awesome!

We love Rockwall School of Music! They are the best!!!
My daughter loves it! Great customer service and personal attention.

I just started taking lessons at the Rockwall School of Music!! This place is amazing! Everyone is so friendly and my instructor is absolutely incredible!!

We have loved being students at RSM. Best place in town to learn music! My daughter has learned so much to develope her voice and the other has come so far with piano.. Her knowledge in Music Theory has skyrocketed.

RSM is amazing. From the front desk all the way to the instructors. Never a disappointment & have made my daughter so comfortable. We LOVE RSM!!!
Earn "30% OFF next Monthly Tuition" with our Loyalty program
Earn points when you complete activites
Every time you Check-In

1 point

Share on Social Media

3 points

Post a review

6 points


Redeem Points for rewards
FREE Bottle of Water

10 points

FREE RSM Wristband

25 points

FREE RSM Scent of Music Candle

50 points

10% OFF next Monthly Tuition

75 points

FREE Extra Lesson

100 points

30% OFF next Monthly Tuition

150 points
Enter your Name and Mobile number to join the program or check your rewards.
By registering for this program, you agree to receive automated text messages from "Rockwall School of Music".
Opt-in not required for purchase. Standard data rates apply.
Subscribe to receive more offers and news
Join thousands of awesome people, there is only one thing to do.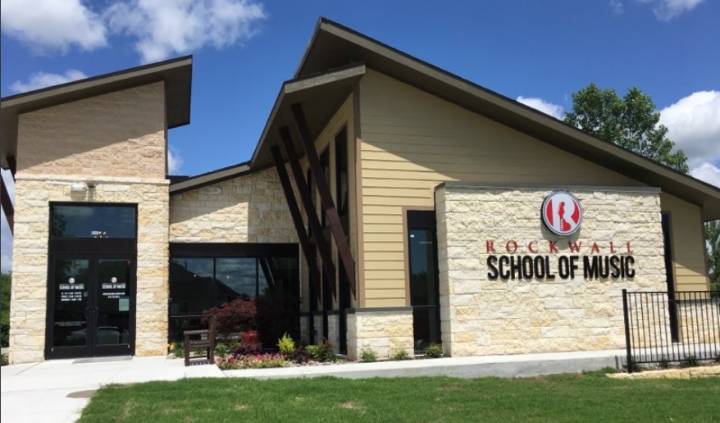 VISIT OUR NEW LOCATION
1920 MIMS ROAD, ROCKWALL (Corner of Ralph Hall Parkway and Mims Road)
For over 23 years, the Rockwall School of Music has been providing convenience to our families. RSM provides multiple teachers for most every type of music lesson. By having so many options for lesson times, students as well as adults find it super simple to carve out a 30, 45 or 60 minute block of time one morning, afternoon or evening per week. That is all it takes to receive their weekly lesson AND, if that's not enough, RSM is open six days a week (Monday through Saturday) to easily coordinate with your busy schedule. Our goal is to provide you with the most amazing selection of teachers in the greater Rockwall area who will foster your musical interest by helping you learn to play or sing the music that YOU want to learn. The perceived challenge of learning music isn't a challenge at all, once you are connected with the right teacher. That is where we come in…we've taken all the guess-work out of finding a quality teacher who has a passion for teaching. That is at the core of what RSM offers, so you can be assured that our teachers have one goal in mind…helping you develop the skills needed to help you succeed!
Location
1920 Mims Rd
Rockwall, TX, 75032