Call / Text Us: local_phone
Email Us: email
2 FREE Weeks Of Training 2 FREE InBody Scans 10 OFF 2 Weeks Of Food
Contact Us send
Open now
Today: 05:30 AM - 08:00 PM
2 FREE weeks of training + 2 FREE InBody Scans + 10% OFF 2 weeks of food

Expires in 3 days

Available: 7

Receive 2 FREE weeks of personal training, 2 FREE InBody scans, and 10% OFF two weeks of Utopia food. The first InBody scan will be completed when the coupon is redeemed.
Food + Fitness REFRESHINGLY SIMPLE
The Food

Fresh, Chef-Crafted, Ready to Eat

Dishes crafted by an industry-leading dietitian & a James Beard-nominated chef

Customized calorie levels balanced to your body based on individual goals

No cooking. No measuring. No guessing.

The Fitness

Remarkably Efficient

Workout only 20 minutes 2x/week for maximum results

One 20-minute workout = 50 minutes of strength training + 30 minutes of cardio

By appointment with onsite trainers
Customer Reviews
5
star
star
star
star
star
based on 16 reviews
Always look forward to my workouts!

I look forward to my gym visits...finally!

I look forward to my workouts here!!!

Excited to pick up a delicious array of food twice a week!

Great food, great trainers, great results!

Eat healthy, save time, shed pounds!

This service will change your life!
Finally, a lifestyle change!!!

Love it here they are so personable and really care about you

The food is soooo good! My family is jealous at meal times. The workout is convenient and very socially distanced.

The best workout and nutrition option for busy professionals!!!

Love how Utopia makes your workout effective and quick. Twice a week for 20 minutes! Perfect for my busy family schedule and the food is delicious! Friendly and knowledgeable trainers as well! So thankful for Utopia!

Great place to get a good honest work out with some very talented and experienced trainers

I have finally found a gym and nutrition program that is a lifestyle change (that I can do) and not a fad or a diet! Highly recommend for busy professionals!!!!
Earn "FREE Month of Food" with our Loyalty program
Earn points when you complete activites
Every time you Check-In

1 point

Share on Social Media

5 points

Post a review

10 points


Redeem Points for rewards
FREE Meal

25 points

FREE Personal Training

50 points

FREE Full Day of Food

100 points

FREE Week of Food

200 points

FREE Month of Food

500 points
Enter your Name and Mobile number to join the program or check your rewards.
By registering for this program, you agree to receive automated text messages from "Utopia Food + Fitness - Lakewood".
Opt-in not required for purchase. Standard data rates apply.
Subscribe to receive more offers and news
Join thousands of awesome people, there is only one thing to do.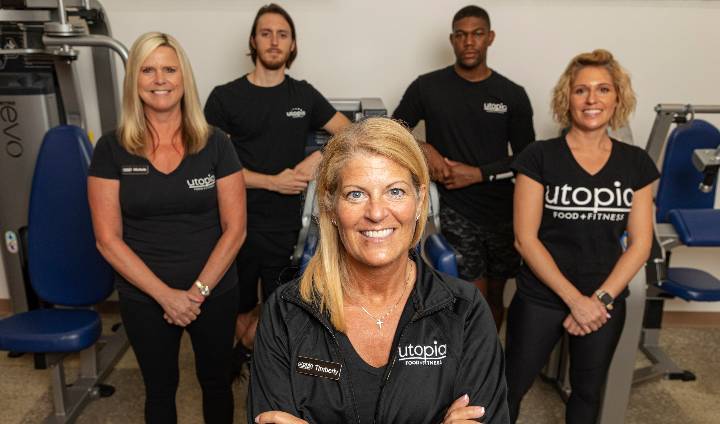 Timberly has spent most of her career in health care and has always had a strong passion for fitness. With certifications in Personal Training, Senior Fitness, Women's Fitness, Corrective Exercises and Nutrition, she is able to help members achieve the best version of themselves! Timberly knows that everyone's goals are different, and that fitness is only part of the equation – what you refuel with is the other! Timberly is originally from Tennessee and moved to Texas over 20 years. She is a self-proclaimed fitness nut that enjoys reading, working out, and spending time with her family and has even caddied for her daughter when she golfs!
Location
6434 E Mockingbird Ln STE 105
Dallas, TX, 75214