Call / Text Us: local_phone
Email Us: email
Best All Other Specialty Food Stores In Southlake
Contact Us send
Open now
Today: 05:30 AM - 08:00 PM
NEW MEMBER SPECIAL 2 FREE WEEKS OF PERSONAL TRAINING!

Receive 2 FREE weeks of personal training, 2 FREE redeemed. 
Food + Fitness REFRESHINGLY SIMPLE
The Food

Fresh, Chef-Crafted, Ready to Eat

Dishes crafted by an industry-leading dietitian & a James Beard-nominated chef

Customized calorie levels balanced to your body based on individual goals

No cooking. No measuring. No guessing.

The Fitness

Remarkably Efficient

Workout only 20 minutes 2x/week for maximum results

One 20-minute workout = 50 minutes of strength training + 30 minutes of cardio

By appointment with onsite trainers
Customer Reviews
4.91
star
star
star
star
star_half
based on 22 reviews
Great people here. They listen and work well with you to help you meet your goals.

Amazing workout and staff!

The food is great and the people that work here are so helpful and nice. Highly recommend!

Go check out my friends at Utopia. One on one training, chef prepared food, and amazing care and service. GAME CHANGER

Absolutely love the trainers atmosphere and the food is to die for so amazing. I feel so much better than I ever have and I'm 65 years old I'm a happy person

Back into utopia ..amazing

Love this place ❤ they have helped me lose weight and I do not feel hungry with the delicious meals
The staff have been fantastic, the food is great! This is somewhere we I'll definitely come again to eat. The market has some really cool thing and reminds me of stuff I used to get as a kid. Love it!!!

Another awesome workout with Timberly! Not gonna lie. It was dark, and I easily could have stayed home. SO happy I went! Awesome feeling to complete her workouts!

Utopia is one of the best decisions I have made on my health journey. I could not do this without the yummy food and Timberly's guidance.

Love the friendly staff and personal attention you get at Utopia. You can't beat the value for your money.

It is the best place to workout in a secured and safe way

Utopia is an awesome place for workout. It's an exclusive gym that allows only 2 or 3 people in at a time, and sanitize everything diligently. That's extremely helpful in these times. The food is amazingly healthy and delicious. The staff is super helpful. I recommend Utopia to anyone.

Utopia is a great place for food and fitness. The trainers are very helpful and capable. The food is amazingly delicious and healthy. In these times of Covid caution, it's a great exclusive gym to continue working out and stay fit. I highly recommend Utopia to anyone.

Workout great I never felt better and stronger!
Very nice team, It was fun working out with the various trainers, but I was dissatisfied with my results. I wasn't showing any improvement on the part of my body I really wanted gone.

I ❤️ Utopia! I feel supported and encouraged with every workout and the meals are not only delicious, but they take the guesswork out of eating healthy.

Timberly really pushes me to the fullest during my workouts! I really look forward to them!

Utopia has a wonderful staff and healthy proportioned food.

Timberly and her team rock. I lost 20
Subscribe to receive more offers and news
Join thousands of awesome people, there is only one thing to do.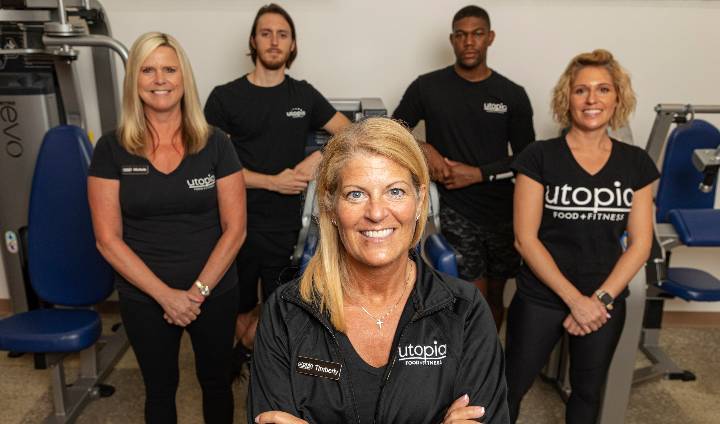 Timberly has spent most of her career in health care and has always had a strong passion for fitness. With certifications in Personal Training, Senior Fitness, Women's Fitness, Corrective Exercises and Nutrition, she is able to help members achieve the best version of themselves! Timberly knows that everyone's goals are different, and that fitness is only part of the equation – what you refuel with is the other! Timberly is originally from Tennessee and moved to Texas over 20 years. She is a self-proclaimed fitness nut that enjoys reading, working out, and spending time with her family and has even caddied for her daughter when she golfs!
Location
2777 E Southlake Blvd #130
Southlake, TX, 76092