Call / Text Us: local_phone
Email Us: email
IN HOME PERSONAL TRAINING In Toronto
Contact Us send
CLOSED
Today: 04:00 AM - 12:00 AM
YOGA AND PILATES

ONE-ON-ONE

Let us come to you in the comfort of your home
With us, you'll acquire better physical, mental and emotional health. In addition to improving body control, flexibility, muscle toning, mobility, and strength.

$90 per session

Yoga and Pilates can be combined in the same session if requested.

PERSONAL TRAINING IN STUDIO

DON'T HAVE A GYM? COME TO US!

Train with our team at our private studio.
Our studio has been designed by experienced fitness professionals, for semi-private personal training sessions.

- By appointment only

Address
102 - 270 Wellington St West
Toronto, ON M5V 3P5

Appointments are available 7 days a week from the early hours of the morning until late evening

Towel service and refreshments are complimentary during your session

IN HOME PERSONAL TRAINING

ONE-ON-ONE

We're there every step of the way to ensure you succeed.
Let us map your fitness plan from help you achieve your goals. Aspire to be better, stronger, more energetic and confident.

$67 - $90 per session

COUPLES

Those who workout together, stay together through thick and thin.
Have your friend or partner improve the efficiency of your workouts by making them more fun and dynamic.

$88 - $105 per session

Benefits of Personal Training
Maintain a healthy weight range
Improve cardiovascular and musculoskeletal health
Gain strength, stamina and flexibility
Learn how to optimize your nutrition and performance
Subscribe to receive more offers and news
Join thousands of awesome people, there is only one thing to do.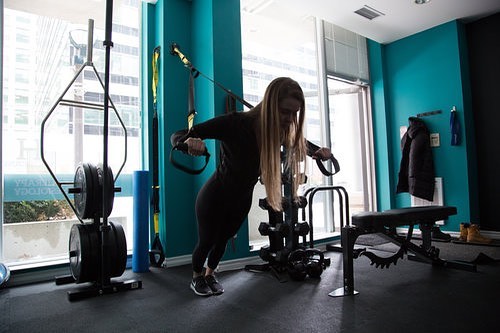 Are you a busy business professional living in Toronto with a hectic schedule?
Want to look and feel better but can never seem to find the time to get to the gym?
Well now you don't have to worry anymore.
Welcome to Your House Fitness.
The personal trainers who come directly to your home or condominium and get you into the best shape of your life.
Gone are the wasted hours spent driving back and forth to the gym.
Gone are monthly fees paid for a membership you barely use. Gone are long lines waiting for equipment. Now is the time for you to work out where you feel comfortable, with the equipment you own, and trainers who get you results.
We are Your House Fitness, the fitness professionals who come directly to you.
Whether it's at your home, condominium, outdoor or a designated gym, we get the right trainer for you. Whenever, wherever.
All Your House Fitness training staff are certified across Canada and possess a variety of academic backgrounds including Fitness and Health Promotion and Kinesiology.
Mixing experience, knowledge and our passion for convenience and results, we guarantee your time with our trainers will be the most enjoyable and rewarding you've ever had with fitness.
All training packages include:
- Nutrition Counselling
- Meal Planning
- Exercise Programs

Location
35 Mariner Terrace #101
Toronto, ON, M5V3V9
Check out these exclusive offers